1900s Tiny Powder Box Soul Kiss Antique Mini Art Nouveau Ring Box Angel Kiss Shabby Romantic Celestial Decor Cherub Angel Pillbox Gift RARE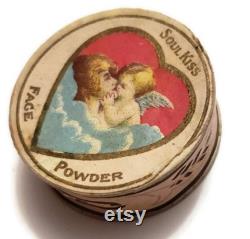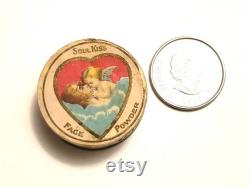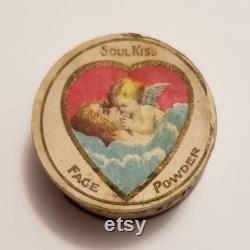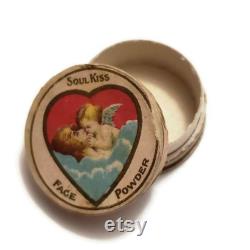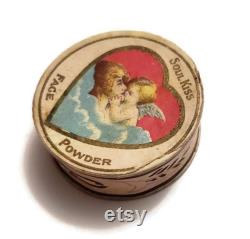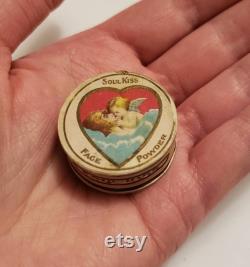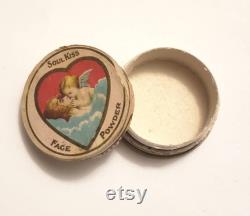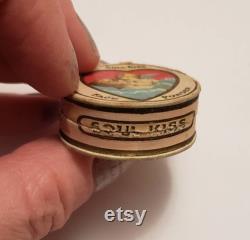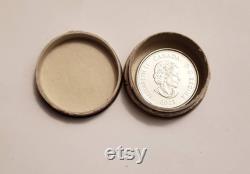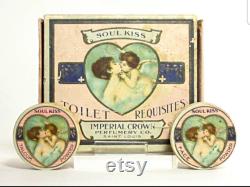 Ultra rare beautiful, teeny tiny miniature antique'soul kiss' face powder box sample size, empty & clean from the early 1900's, amazing romantic art nouveau lid with vivid colorful angelic graphics. Features an edwardian teeny tiny powder box art nouveau style with amazing celestial graphics that feature a gorgeous angelic scene of a cherub angel from the heavens above, kissing a beautiful woman within a red heart shape amongst pastel blue fluffy clouds, hence the name, soul kiss. With beautiful gold art nouveau lettering.
The last photo shows a picture of what the original regular sized powder boxes would have looked like. This would make a very romantic valentines day gift or wedding ring proposal box, keepsake box or a lovely pill box for your vanity dresser or tiny trinket jewelry box for your cupid cherub, angel or celestial themed shabby vanity decor. Wonderful beautiful pretty piece for displaying amongst your vintage powder box or rouge collection or vanity dressing table and boudoir.
Makes a great gift for the serious vintage makeup, beauty & vanity collector or special valentine gift to treat yourself. Era: 1900's, (1906 - 1916 approx age) antique, art nouveau, early edwardian or early art deco era.
Condition: amazing antique vintage condition; empty, clean inside & out, slight minor markings consistent with age & use and being in storage for over a century; see all photos in zoom view for closeup details. Made by: imperial crown perfumery company, st louis, usa. Comes in a free gift box or gift bag for easy gift giving. Size: 1.4" (4 cm) diameter // 0.8" (2 cm) height. Just slightly bigger than a 25 cent coin. If you like this, you might also like. More vintage vanity & beauty. Please note that colors may vary slightly depending on computer monitors and or devices. This item is made of paper cardboard box.
The style is art nouveau and edwardian.

---