1930s Armand Powder Box Vintage ARMAND SYMPHONIE Face Powder Dresser Box Egyptian Vanity Decor 30s Jewelry Trinket Box Queen Nefertiti Cameo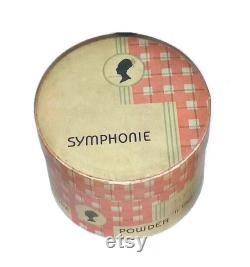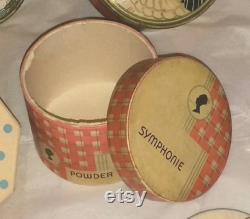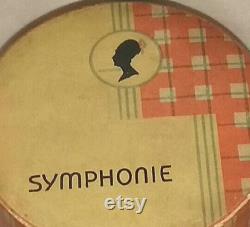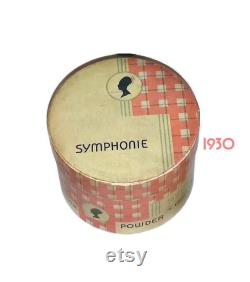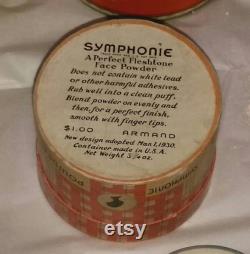 Extremely rare beautiful vintage art deco armand powder box from 1930. Super rare'symphonie' face powder box by armand, jewelry box, vanity display, trinket box beauty collectible, gift presentation box. The color that was once inside was called'a perfect fleshtone' face powder.
This powder box is one of the larger ones from the line of their round armand boxes that were from the 1920's & 30's, even though it is not all that big in size. It features armand's classic black silhouette cameo logo against a cream & peachy pink art deco checked background design & iconic geometric clean lines and classic art deco font, lettering that was popular during the 20's & 30's. The back reads as follows.
Does not contain white lead or other harmful adhesives. Rub well into a clean puff. Blend powder on evenly and then for a perfect finish smooth with finger tips. Little bit of face powder history up until the 1930s most face powders contained harsh chemicals such as lead, arsenic, asbestos & other bleaching agents that were used as'whitening powder' to give the face a more'younger and fresh' appearance of pale innocence.
This was one of the very first face powders that did not contain any harsh chemicals, such as lead (as stated on back). Back of the box states that it was made in 1930. Size: 3" diameter x 2" deep (7.6 cm diameter x 5.1 cm deep). Can be used as a jewelry presentation gift box, trinket & hair pin barrette box, lipstick makeup storage or a special place to hide love notes & keepsake special mementos. Condition: inside is empty & clean.
Please see all photos in zoom view for closeup details. To me, the wear gives it lots of character and makes it look that much more authentic. If you would prefer tracking please let me know before checking out & i will calculate rate based on your area of residence. More vintage vanity & beauty. This item is made of cardboard box.
The style is mid century and cottage chic.

---