34.95 HoBNaiL GLASS PoWdER BoX, DIAMOND POINT, TrINKET JewELRY BoX, ArT DeCO pLUME Finial, VaNITY AccENT, VinTage EnGLiSH HoBnAiL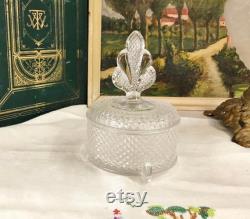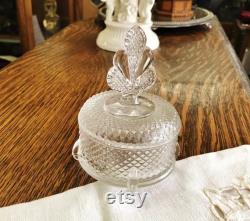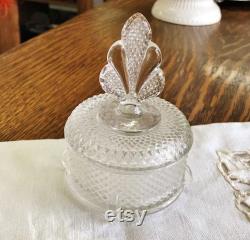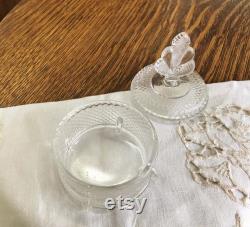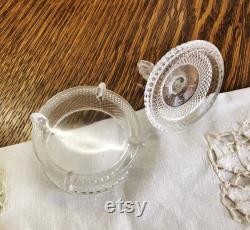 This vintage hobnail glass powder box can hold anything from powder to jewelry love the art deco plume finial on the top. It's got some dings along the edges on the underside of the lid but as you can see they ain't noticeable.
The pattern is diamond point. Please use the zoom feature.
Diamond point or english hobnail pressed glass. Condition: this vintage hobnail glass powder box is in average vintage condition. The finial and top are in good shape but there are small dings to the underside edge of the lid but seriously.
The bottom is good with no damage. One day i'll be able to do etsy full-time but until then please allow me 3-5 days to get your item to the post office. All items are antique or vintage and as such, will show wear. I do my darndest to describe each item in great detail.
In particular any flaws,'cause if you're unhappy , you'll make me unhappy. Let's be social i'm lisa and i live in the wild, wild west. I love art deco furniture, victorian jewelry and led zeppelin.
This item is made of vintage diamond point powder box and beautiful art deco finial plume, pressed glass.

---