A super Victorian ladies travelling vanity box in rosewood.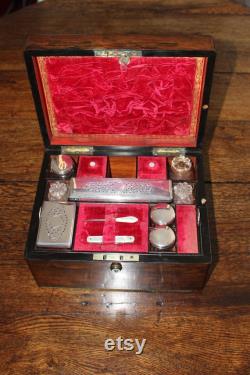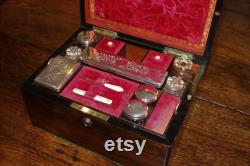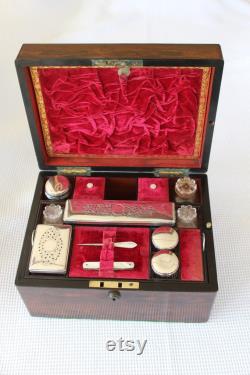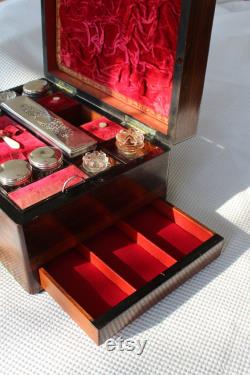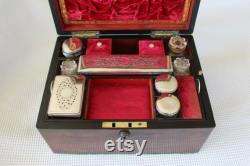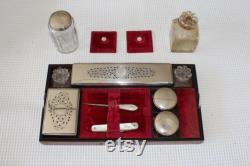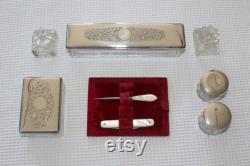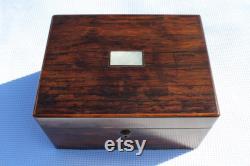 A beautiful victorian ladies travelling/vanity box in rosewood with a mother of pearl vacant cartouche to the lid, dating from the latter part of the 19th. This lovely example comprises a red ruched velvet lined lid with gold patterned surround which releases with a catch to reveal a stationery pocket and removable mirror. The main compartment consists of six bottles, two of which have a silver metal top, two silver metal pierced lids to rectangular crystal containers, and three lead crystal topped glass bottles. There are two of the original mother of pearl vanity tools together with two delightful red velvet topped lids for the small storage sections.
The tray is removed using the ring handles at either side, this reveals a shallow storage area where one could store small items of jewellery, necklaces/bracelets/rings. There is also a secret compartment to one side of the box which is released by a metal pin. Here there is also enough depth to allow storage of jewellery similar to the items mentioned above. The drawer has been re-lined due to a bad tear in the original red silk, and new green baize has also been fitted to the base. The box itself is in very good condition with only small signs of wear and tear commensurate with age and use.
The key to the box is not present. The stationery wallet has a minor tear and abrasion to the card but it is still functional for storage of a few letters or small papers. There is some wear to the vanity tool holder purely through use, but nothing that couldn't be fully revived with some careful stitching. Some minor wear to the silver caps as you would expect but nothing of great note.
A fabulous piece that would grace any ladies dressing table, and one that could be fully utilised today. With storage areas for trinkets, small round and rectangular storage jars for ladies vanity items, a removable vanity mirror, and a fairly secret pocket for storage of letters. A lovely piece for a lady of quality. If you have any questions or queries, please don't hesitate to drop me a line. If you are purchasing from within the e.
U, please be aware that you will be paying a duty in your country. Many other fine pieces available, please visit my shop.

---