Antique 18th Century Chinese or Dieppe Carved Casket Original Presentation Box Very Rare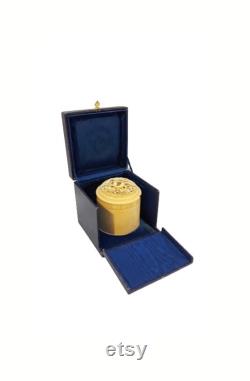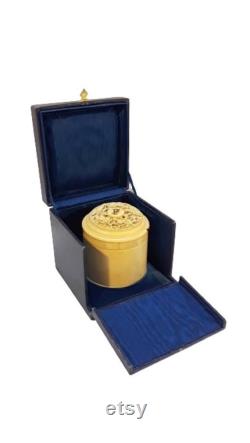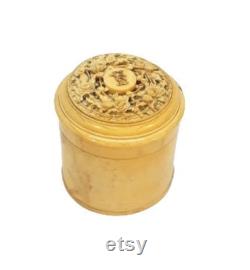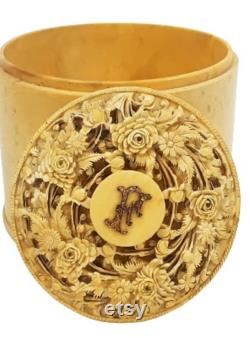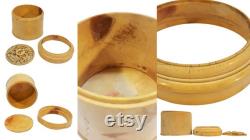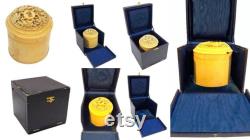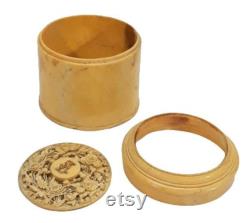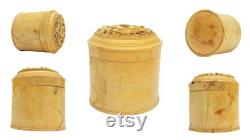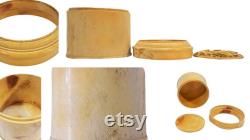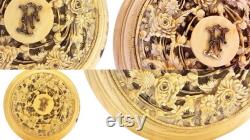 A round, turned jar with an inset base. Slip lid on the top with exquisitely carved floral relief carved inset. Deeply carved from several pieces of natural material, there is a bouquet of many different flowers including roses, lily of the valley and forget me nots on the lid. The lid is made up of three pieces of the carved natural material, each were once glued together, now they have separated and need to be reaffixed. Two of these pieces are carved solid rings, and the ornamental top is circular in shape and fitted with an ornamental golden initial "f", which has been hand etched with flourishing accents. The casket body itself is constructed of a single piece of a tube like natural material, with a carved thin outer ring around the bottom rim and a single flat carved piece to close the base. These pieces are glued together to form the cylindrical box.
There are a few age lines to the lid. There are scattered minor losses to the carvings on the lid, although to me, this is not particularly noticeable because of the density of carving. Minor shrinkage cracks, some minor losses at floral points on lid.
There are stains and natural colorings to the box and numerous schreger lines are present in their natural state. Despite these points, the casket displays very well and is a quality piece of carving with a good weight to it. I have provided many photos to show the state of the object. The casket comes complete with its original fitted presentation box of deep purplish blue paper, lined with deep blue moire silk and velvet and brass latch. I was told this was originally a betrothal gift from a suitor to his intended bride.
You know quality pieces when you see them, it is not celluloid. These unique objets d'art are getting more and more scarce every day, don't let it slip past you.

---