Antique Beautiful Early 1900 s Silver Etched with Mother of Pearl and Victorian Style People Snuff Trinket Box Cosmetic Compact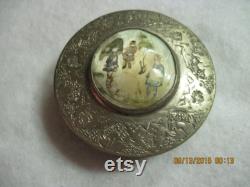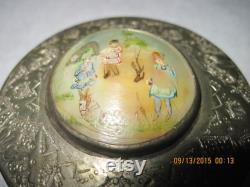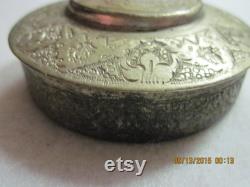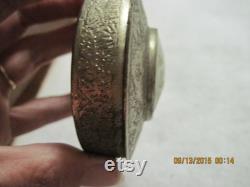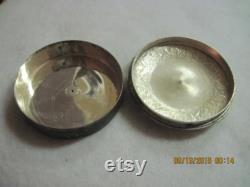 This is a antique beautiful early 1900s silver etched w/ mother of pearl & victorian style people snuff/trinket box/ cosmetic compact. I believe this is from the early 1900's, i'm going by the style & the mother of pearl center with the victorian style people on the piece which is kind of rounded/domed. I also believe that this is sterling silver because a magnet will not stick to it. (please inform me if this is a wrong assumption) has beautiful etching all over it, does have some slight tarnish no patina. The lid works very well & won't just fall off if knocked off a cabinet.
It's 3" round & about 1" tall maybe slightly taller. There is slight wear to the pictures, but since this is vintage/antique some wear can & is to be expected. All in all this really is a gorgeous piece of art work. Could this be a antique snuff box use as trinket box or as a compact case in purse. If you have any information on this type of "box" please pass it on.
I find no major pitting, patina, or scratches that break surface of plating/high shine or major tarnishing. Remember, this is a vintage, preowned/used item. Some wear is to be expected.
All major wear is always noted. Clean vintage earrings before wearing. This means something different to everyone.

---