Antique blue guilloché sterling silver ( 1929 London England Goldsmiths and Silversmiths Co ) floral etched crystal vanity dresser jar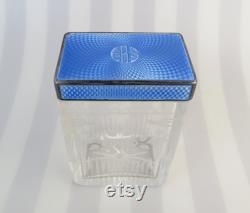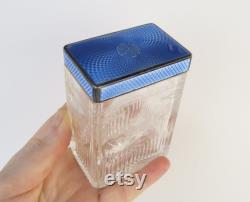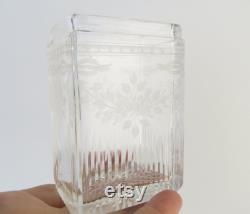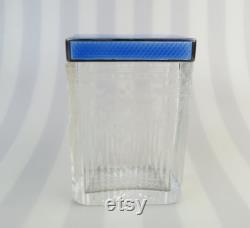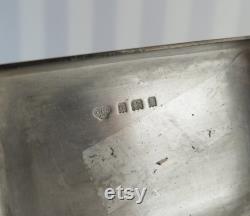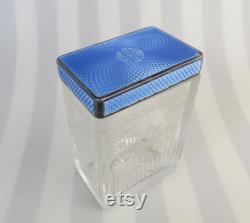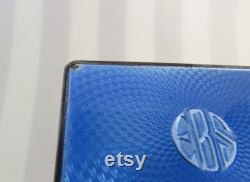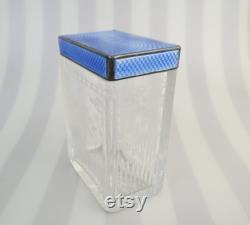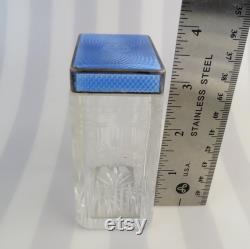 A pretty cornflower blue guilloché enamel lid tops this antique 1929 english vanity jar by the goldsmiths & silversmiths co. The lid is of solid sterling silver with an engraved "ebs" monogram. Guilloché is a decorative technique in which a very precise, intricate and repetitive pattern is mechanically engraved into an underlying material (in this case sterling silver).
This particular lid pattern has repetitive radiating curvy lines, all topped by a vibrant blue enamel. This lid has great optics to it with a beautiful glow as the light hits it from different angles, giving it a three-dimensional look. The cut crystal jar has a linear cut pattern rounding the outside and a starburst decorating the bottom. A floral swag and tied ribbons are etched around the center of the glass vessel. The inside of the lid is signed "g&s co" (hallmark first registered in 1899 by goldsmiths & silversmiths co of london).
It is also stamped with a lion (english sterling silver), leopard face (london, england) and date letter "o" (1929). The top of the lid has some loss of enamel at the left corner and the silver has a dark aged patina. The lidded box measures approx. 2 3/8 inches by 1 1/2 inches with a 3 1/2-inch height.
This piece may be great for storing jewelry, q-tips or other precious tiny things. There is some minor surface wear to the enamel and a chip to the crystal bottom that flows 1/4 inch up the side of the jar. There is other surface wear scratches and rub marks to glass bottom from being slid across a vanity or dresser top. The mesmerizing enamel is in otherwise very fine condition.
Total wt: 222.1 grams. Condition: very good antique condition with vintage patina and vintage age wear to the silver, minor surface wear to the enamel and a chip to the crystal bottom that flows 1/4 inch up the side of the jar; other surface wear scratches and rub marks to bottom. Each vintage piece has been examined by a graduate gemologist.
Stone carat weights stated represent approximate weights which can vary by the limitations of measuring set gems. Due to the age, antique & vintage jewelry and sterling objects are often not perfect, and may have normal signs of surface wear, or small imperfections due to hand crafting or production in a long gone era rather than mass-manufactured nature. This is what makes each piece special and unique.
This item is made of vintage and sterling silver, lidded, guilloche, enamel, gold vermeil, london england, english, blue, cut crystal, glass, jar, goldsmiths silversmiths.

---