Antique Bursley Vanity Set Desert Bedouin Camel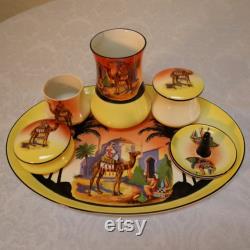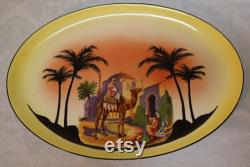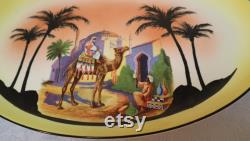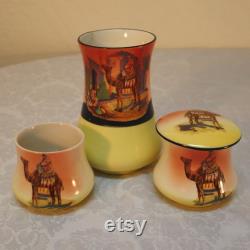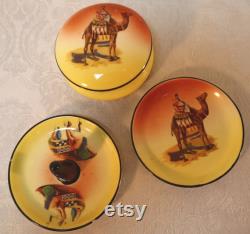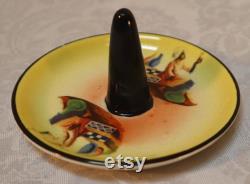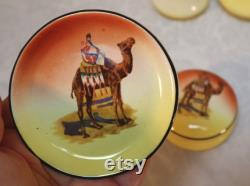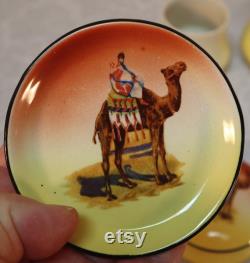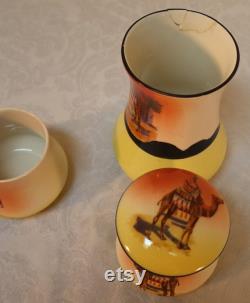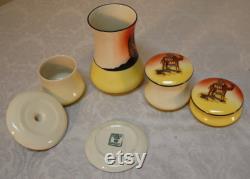 Beautiful antique vanity tray and set featuring a dessert scene with bedouin on camel approaching a man holding a bottle outside a building. Vibrant desert sunset coloring and nice design, with palm trees at edges of scene silhouetted in black, with matching edge trim. The scenes look like decals, with the palm trees and ground overpainted by hand.
The eight piece set includes the tray, a ring holder, vase, powder jar with lid, taller jar with lid, an open jar and a small dish. Two pieces are marked "bursley ware england". The tray measures 14" x 10" and the vase is 5 1/2 high, for an idea of size. Wonderful vintage condition overall with minor expected scratch type wear and minor wear to black areas -- and the vase was cracked and obviously repaired, and ring holder has a small show nick on the edge, as shown.
This item is made of ceramic and pottery.

---