Antique Cut Glass Powder Jar with Repouse Lid Featuring an Art Nouveau Woman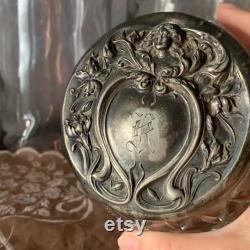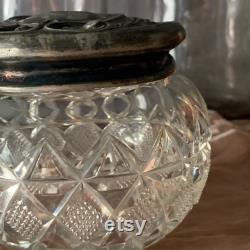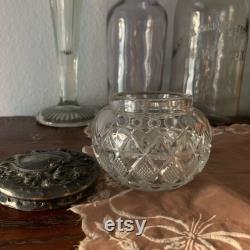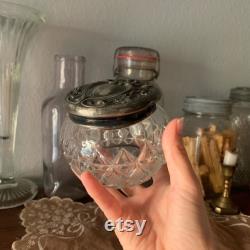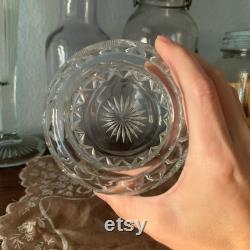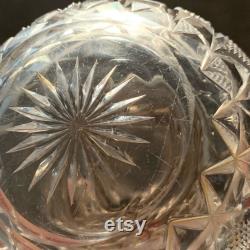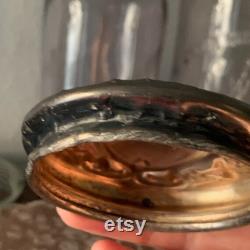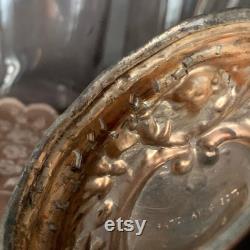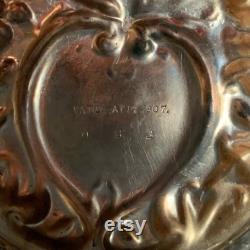 Antique cut glass vanity jar for sale. Marked with the patent date of may 14, 1907 and the numbers 033 on the underside of the lid. 2.5 inches across the top opening (lid off).
Base measures 2.25 inches wide. The silver plated lid displays a darkened, even patina throughout. I have not polished the lid, only cleaned and buff with a micro fiber cloth. The lid features a beautiful art nouveau woman with flowing hair, surrounded by wild lilies. The center of the jar is monogrammed with the letter r.
You will notice that the top edge has some dings. It's not too noticeable but you can tell from the underside that it was probably dropped at some point. This can be seen in my photos. The underside of the lid appears to be copper metal as the base metal. The glass jar is decorated in a cut diamond pattern all the way around. The bottom features a cut starburst design. There is some etching on the bottom as well as a very small crack and chip. The chip is very small. I poured water into the jar to check for leaks and it did not leak. But this is something to keep in mind.
The over all integrity of the jar is still intact and has many more years of beauty to be enjoyed. This jar can still be used to hold powders or potpourri, or to be display among your other art nouveau vanity decor.
Please message me with any questions or if you would like more photos. Thank you for your interest. This item is made of cut glass and silver plated metal.

---