Antique Djer-Kiss Talcum, Small Talcum Tin with Metal Lid and Shaker in Green Pattern Tin Marked Kerkoff Distributors NY for Vanity Display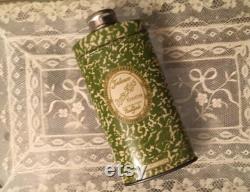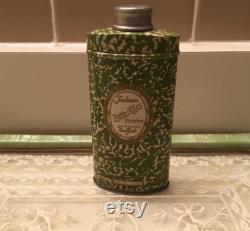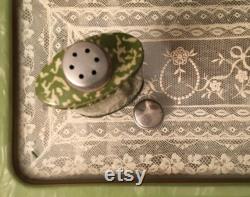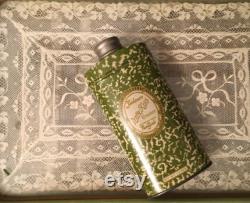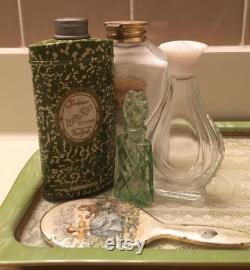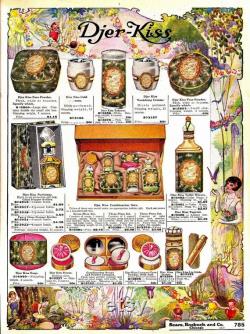 Antique djer-kiss talcum, small talcum tin with metal lid and shaker in green pattern tin marked kerkoff distributors ny for vanity display. This is such a wonderful antique vanity collectible of partially used djer-kiss talcum.
The whimsical metal tin will certainly add interest to a boudoir vanity collection a nice companion to a djer-kiss collectibles or compact as well the tin will make a lovely collectible gift. This art nouveau metal tin has a most interesting design with "mossy" green pattern on all sides. Also on both sides there is a medallion marked talcum djer-kiss (or dear kiss) with fancy gold border design with forget me nots.
It is also marked kerkoff distributors, new york. The talcum tin has more than half of the very fragrant powder left. An original ad i found calls the fragrance "exquisitely feminine". The lid is silver metal that lifts off to a talc shaker inside. The original contents were net wt 1 1/2 ozs.
A bit of history: kerkoff, a french perfumer, is known for the fragrance "djer-kiss", from the early part of the 20th century. Images of fairies were widely used in ads and most famously on the fairy compact.
The company knew prosperity was in the american market and used an american company to manage distribution. The new york company of alfred h smith was appointed as kerkoff's sole importer. Condition: good to very good with light wear to tin and patina to top and darkening of base. Powder tin is good heft, i would presume at least half of contents still present. Measurements: 4-1/2" in height by 2" width and 1 depth.
This item is made of kerkoff and djer kiss, silver lid, silver shaker, metal, tin, talcum powder, half full, green, design, gold label, forget me nots. The style is art deco and historical.

---