Antique Fleurs d' Amour Roger et Gallet aluminum power box c.1920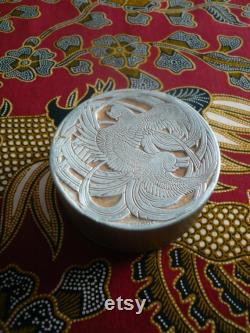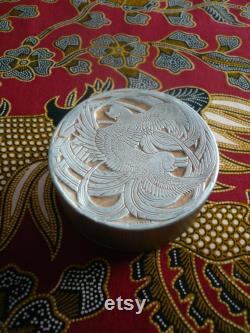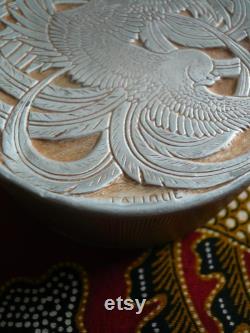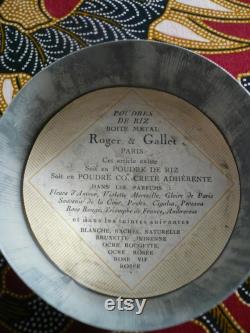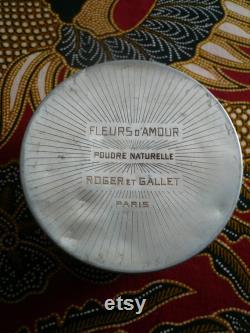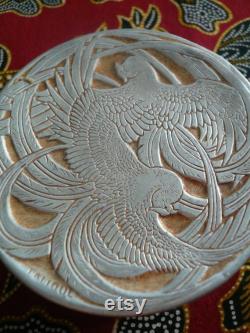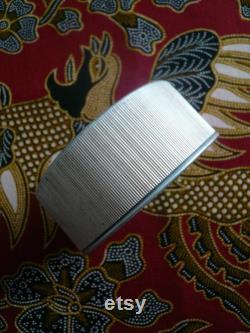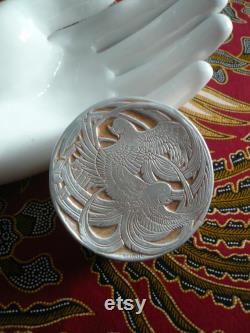 The roger & gallet powder box is made of aluminum with a lid decorated in a raised rene lalique design of 2 exotic birds of paradise with open wings of rich plumage pressed against a gold/ochre background. The detail on the birds is amazing and the effect /image is stunningly beautiful.
The box has ribbed sides. The bottom is stamped with stripes radiating from the center and fleurs d'amour poudre naturelle roger et gallet paris.
The edge of the the lid is marked "lalique". The lid is also lined with a paper label listing the different fragrances the powder came in and also the different colour tones. This one was for "naturelle" as it is marked at the bottom.
The lalique designed roger et gallet fleurs d' amour (flowers of love) aluminum powder box was first introduced in 1922. The condition is very good with some small superficial dents at the bottom and some fading of the ochre backround on the lid. It is 7.5 cm in diameter and 3 cm thick (2.95 x 1.18 inches). Please note that most of our items are antiques and vintage preowned and used goods, so not in perfect new condition.
This item is made of metal and paper, aluminum.

---