Antique French Chinoiserie Powder Box and Swan Down Powder Puff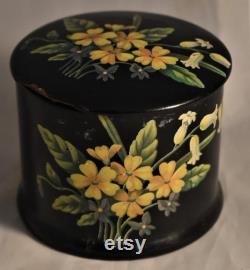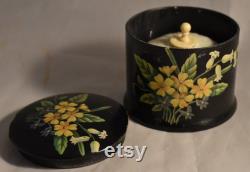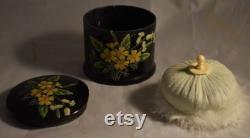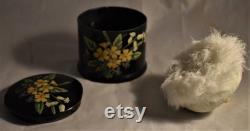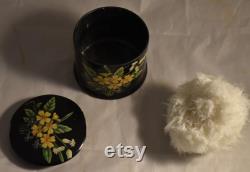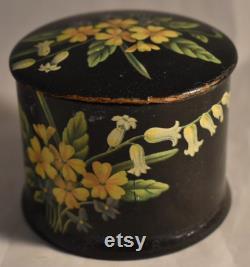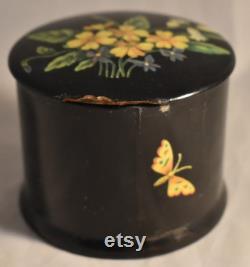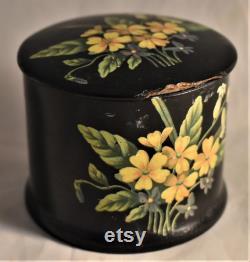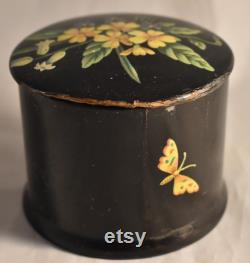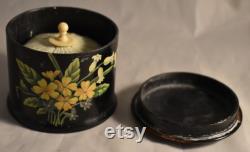 On offer is a 19th century french chinoiserie hand painted papier mache lacquered powder box and rare swan down powder puff. Box is well preserved for its age and considering it is made of pressed paper: areas of chipping to the lacquer around the edge of the lid and a vertical line or crack in the papier mache beneath the lacquer; but otherwise no faults.
Hand painted with flowers and foliage on a black japanned finish. 3 inches (7.8 cm) in diameter by 2 1/2 inches (6.4 cm) tall. Swan's down powder puff with pleated silk top and bone or french ivory handle. Silk appears to have some remnants of blue coloring almost completely faded out.
Puff is flattened out at the base from having been in the box for so long. Remnants of powder on puff and in the box have not been cleaned out. This item is made of papier mache lacquer and paper.

---