Antique Mary Garden Toilet Powder Parfum Talcum, Red Tin with Wonderful Graphics by Rigaud Paris with 1 3 of Fragrant Talcum Remaining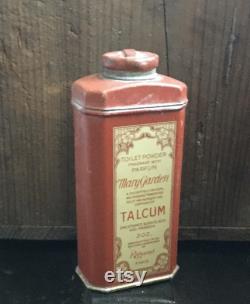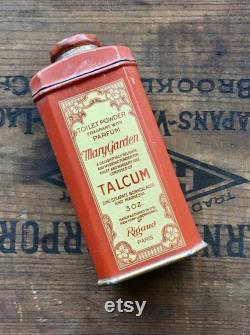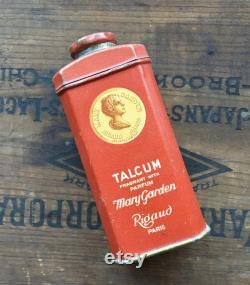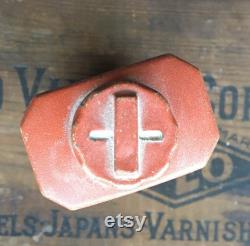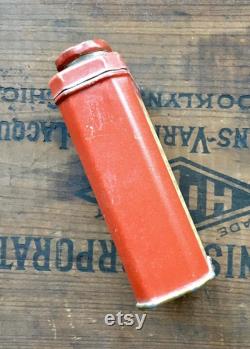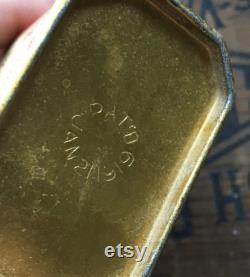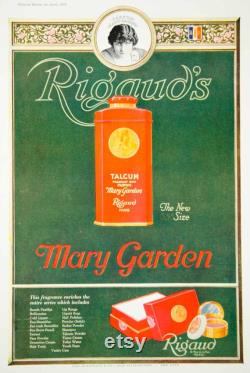 Antique mary garden toilet powder parfum talcum, red tin with wonderful graphics by rigaud paris with 1/3 of fragrant talcum remaining. This is a harder to find whimsical red talcum tin of mary garden toilet powder fragrant with parfum talcum powder. There is about 1/3 of the pretty scented talcum remaining in the collectible tin. The mary garden products were launched 1910. The art deco tin is red in color with brass accents and red colored sifter opener at top.
The bottom is marked pat'd jan 21, 1919. The fascinating red tin has an octagon shape. On one side is a tan inset "label" with wonderful floral graphics on top and bottom.
Toilet powder fragrant with parfum, mary garden, "a delightfully delicate and hygienic powder for toilet and nursery use composed of talcum". Ingredients, 3 oz, manufactured in new york laboratories of rigaud paris.
The other side of the collectible tin has a round logo mary garden rigaud paris parfumeur with image of mary frances. Mary garden has an interesting history she showed talent at age 9 and became a famous singer.
She was from scotland, emigrated to chicago and trained in paris. She debuted in europe in 1900, america in 1907 and until the 1930s sang opera in chicago. Rigaud developed an sizable line of mary garden. Choosing mary garden for their celebrity was a wise move as rigaud expanded business in us and canada. Garden was not too "highbrow" and appealed to middle class women.
Rigaud's advertising for mary garden products ran in vogue, dress and vanity fair. Window displays featured full length versions of the sensation in character. This is a wonderful tin vanity collectible, for bathroom decor, perfume display or boudoir.
Will make a wonderful gift even if for yourself. Last picture is of vintage ad from the 1920's included for historical reference and not for sale with listing.
Condition: good to very good, has love wear and surface scratches and tiny dings, no rust or major flaws. Measurements: 4-5/8" in height by 2-1/8" width by 1-3/8 depth.
This item is made of tin and talcum powder, red tin, parfum talcum, partially full, shaker, logo, mary garden, octagon shape. The style is art deco and historical.

---