Antique Milk Glass Puff Box Victorian Glass Lidded Vanity Dish Hand Painted Ray End EAPG 1890s Dithridge and Company Made in USA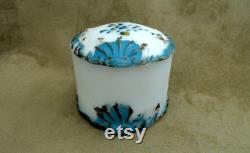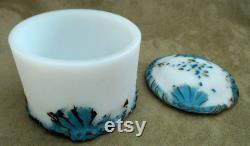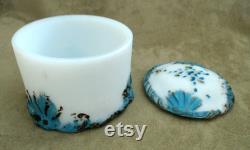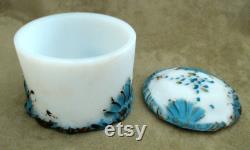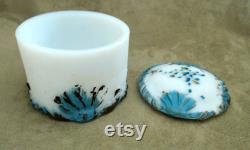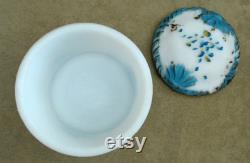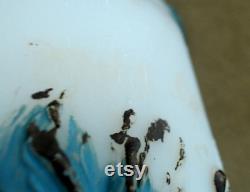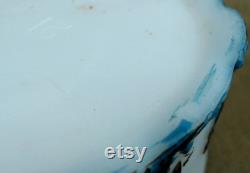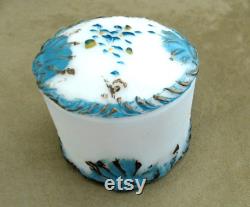 This is an antique puff box, made from a beautiful opalescent milk glass this round lidded dish was made in the 1890s by dithridge & company, and is part of a collection of patterns called "ray end". It is a type of early american pressed/patterned glass (eapg), that was hand painted after it was molded. The ray end pattern pieces differ, but have a coordinating motif with organically swirled curls and sunburst like "rays". The cylindrical box has many small curls and scrolls radiating upward from the base, as well as three large ray bursts. The decoration becomes minimal as it approaches the rim, leaving just the smooth milk glass.
The slightly domed lid sits flush on the rim, and is heavily decorated with those same molded rays and curves. On this particular puff box, a lot of the scroll work has been colored with a turquoise enamel, and the rays have been highlighted in gold. A spray of blue and white flowers graces the center of the lid. Condition: this puff box is in fair condition.
It has no cracks or repairs that i could find, but it does have a few issues to consider. Most notably, like the majority of the hand painted vanity pieces of the era, the enameled paint work is degraded.
This box does have much more paint intact than some that i've seen - there's still plenty of turquoise left and not just bits of the gold, and the flowers on top of the lid are still visible. However, i would consider the paint loss to be considerable. There is also an issue of potential staining.
There is a patch of brown or rust colored clouding on the exterior of one side, about half way down. I do try to clean all of my finds well, but i felt that because of the delicacy of the remaining enamel, i should not try to deep clean that area. It's a difficult decision with something like this the last issue relates to manufacturing more than anything else. All of the edges of this piece, especially the mold lines, are extremely rough. I run my fingers on every surface just to double check for chips, but this one had me saying ouch on every seam and edge a lot of the pressed glass from this era has given my fingers this exact same mistreatment. I found a single small flake missing off the underside edge during inspection. I apologize if i have missed any further flaws on the edges or seams. I was careful, but it was an exceptionally rough job please check all pictures, i always take a close up of any issues i find because i want you to be confident in the condition the glass is unmarked save for the number 21 embossed on the bottom.
Fortunately this pattern is well documented and easy to identify. Size: the box measures 3 across, and is about 3 tall, including the lid. Why i chose this: it's such a lovely thing. It is getting harder and harder to find old milk glass, and old vanity items.
It was nice to find one that hadn't completely lost the hand painted flowers. I would love to see one of these fully restored as it is now, i feel it could play a charming part in a country or cottage display, and of course would fit right in a proper victorian bedroom set or collection. She may be an antique, but something tells me she still has a lot to give.
I try to include as many relevant pictures as possible. If you're interested in more, let me know, i'm more than happy to help.
Thank you for taking an interest in this item it was a pleasure to find it. This item is made of glass and enamel.

---