Antique Opaque Uranium Glass Trinket Pot, Bronze Hinged Lid, European Circa 1880, Cameo, 3.25 x 2.25 , Excellent Condition, 140 years old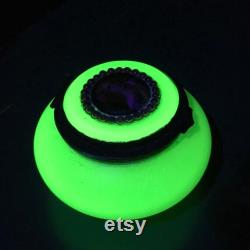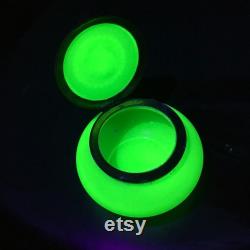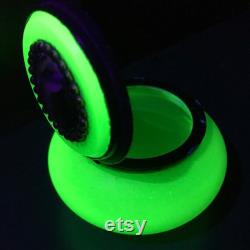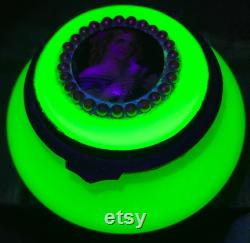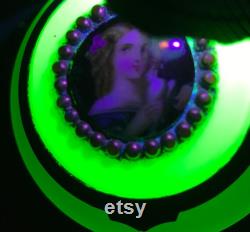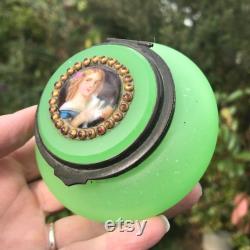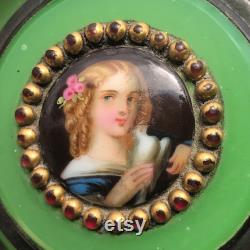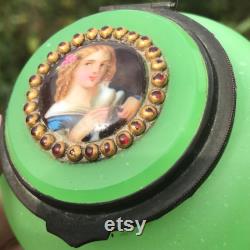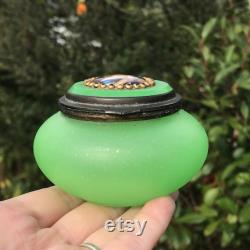 Frosted opaque uranium glass trinket pot, bronze hinged lid, european antique circa 1880, cameo, 3.25" x 2.25", excellent condition. Dating from the victorian era around 1880 this wonderful trinket pot is made of very smooth thick opaque uranium glass with what would appear to be a very high uranium content - more typical of pieces from this era. The effect of the uranium is demonstrated in the first 5 photos using a uv back light. The final 5 photos are taken in regular daylight. The pot has a bronze surround securely attached to the rim of the pot with a flip back style top.
Matching glass surrounding by a bronze rim, hinge and little ridge handle makes up the lid of the pot. On the top of the lid set within a debossed section of the glass is a hand painted ceramic cameo of a young girl with blond hair and blue eyes. She is holding a white dove in her arms, she has pink roses in her ringletted hair and wears a blue dress with a white collar. Around the cameo are tiny red cabachons that have been partially painted in gold to resemble rubies set in gold. This is an exquisite piece of antique uranium glass. I have not ever come across anything similar and cannot find similar online in terms of exact shape and style. It is a truly unique hand made piece. It has a european feel about it and i suspect it would have been made in either france, germany or italy. You can see from the photos the pot lid has a bevelled edge which has clearly been hand crafted. Measuring 8cm at its widest point (just over 3") x 5cm (2") tall.
The opening into the pot is just over 4.5cm (just under 2). Absolutely no chips, scratches, cracks, nibbles.
In perfect condition quite remarkable for a piece that is most likely over 140 years old. May have originally been used as a trinket pot, a powder jar or perhaps even for confectionery (a bonbonniere). Items will always be packed with exceptional care, usually double boxed, using clean repurposed card and paper as well as strong paper packaging tape - all of which can be recycled. Fragile items will also be wrapped carefully in good quality brand new bubble wrap. I will always cover the parcel for loss or damage in transit if the worst should happen.
Thank you so much for visiting. This item is made of thick frosted opaque uranium glass and hand painted ceramic cameo, red and gold cabachons, bronze metal rim and hinge. The style is hollywood regency and art deco.

---