Antique Tiffany and Co Dresser Box, 1910s Sterling Silver Embossed Scrolls Powder Holder, Belle Epoque Moore Era Design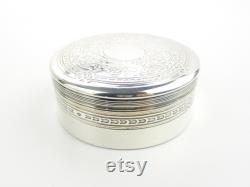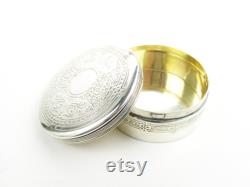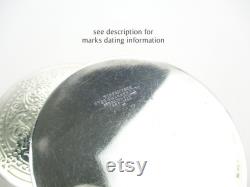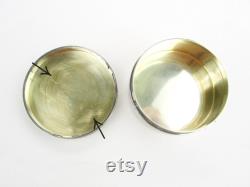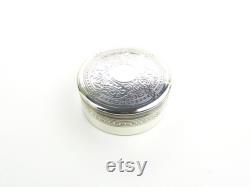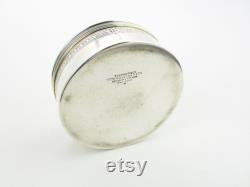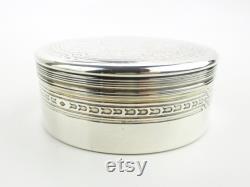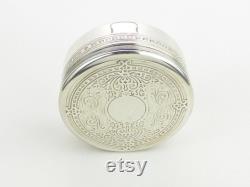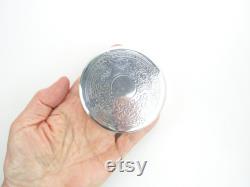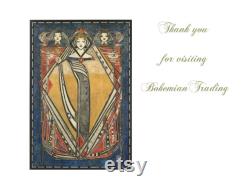 Superb antique tiffany and co dresser box is made of sterling silver with a gold gilt interior. Powder box features a belle epoque design utilizing a series of embossed scrolls and bell flower garlands in a beautiful arrangement. Designed between 1888-1889 based on tiffany's own numbering system (see below), and manufactured c. Excellent quality includes a precision fitted top and bottom, guaranteeing secure closure by lining up the tabs. Size: 3 across x 1-1/8 high. Weight: 129.5g (4.57 oz).
Condition: lid interior has noticeable scratch marks, as pointed out in photos. Lid's gilt has a slight film, found when holding the top on a certain angle. A pricing consideration has been made. Lid interior also exhibits a few very minor distortions that do not appear on the outside.
Bottom interior shows minor signs of use and includes a darker area on a small portion of its wall. Dating marks: pattern number 9726, designed between 1888-1889 by edward c. Moore who manufactured exclusively for tiffany from the 1850's onward.
Edward moore was instrumental in the development of tiffany's holloware and silverware designs, making tiffany's the first american company to win at the paris exposition universelle of 1867. 1900's to 1910's under edward moore's son, john c. Moore ii (director of tiffany's from 1907-1947). M on bottom indicates the tiffany director at that time.
G makers (authorized makers for tiffany). Tiffany & co as well as 925 1000. This is an authentic piece. Your selection will be carefully wrapped in tissue in a gift box.
This item is made of solid sterling silver and gold gilt.

---