Antique TV Limoges Hair Reciever Hand Painted Victorian Violets Tresseman Vogt Porcelain Floral Shabby Cottage Chic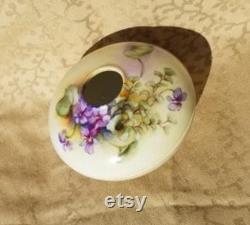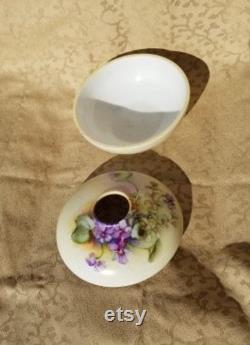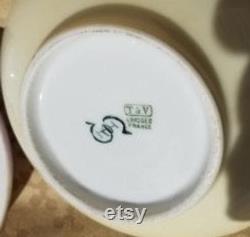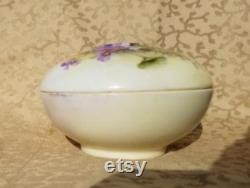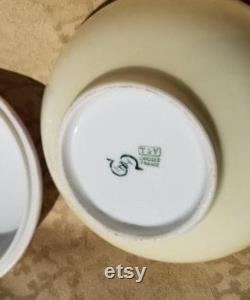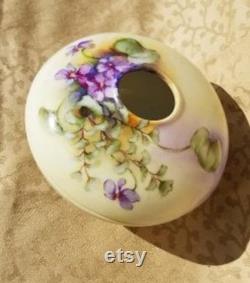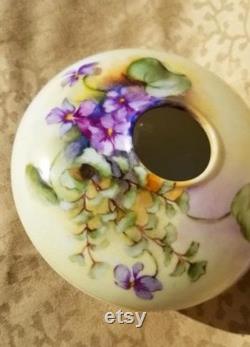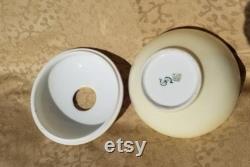 Antique tv limoges hair reciever hand painted tresseman and vogt porcelain floral trinket dish victorian shabby cottage chic. This is a gorgeous antique victorian hand painted porcelain hair receiver dating from about 1891-1906. This dish features lush purple violets and foliage. This would make a fine addition to your antique porcelain collection or use as intended. Can be used to stash anything from your favorite face powder, jewelry or beauty aids on your vanity table or powder room.
Has the "tv limoges " mark for tressemann & vogt. Also has the artists's cipher. Condition: very good pre-owned condition. All photos taken in natural sunlight. This beautiful antique vanity jar is known as a hair receiver.
A woman would take the accumulated hair from her hair brush and place it inside this handy receptacle. The leftover hair would be used to either make hair jewelry or fashioned into what are known as "rats", which were pads of hair to be used underneath hairstyles to give the impression of a fuller head of hair.
The history of the tressemann & vogt began in the early 1880s, but the name vogt was associated with porcelain from limoges for many years before tressemann joined the company. In the 1850s john vogt founded the company in limoges, exporting porcelain to the headquarters in new york, existing since 1840s.
In the 1860s he founded the decorating studio, and his eldest son, charles, took over management of the company in new york, which in 1865 adopted the name: "vogt & dose" (to the company joined john vogt's nephew, frederic dose). In the early 1870s the company in limoges took the second son of j. Vogt - gustave vogt, to which joined as a partner in the 1880s emilien tressemann, bringing considerable capital.
Together they began in 1891 producing their own porcelain (white wares, decorated tableware, accessories, art objects). This partnership lasted until 1907, when e.
During the first years after the acquisition of the factory, the products were marked by the existing signature "bell" plus the initials r & co. This is part of a huge collection of antique nippon and european (including limoges) porcelain that i recently acquired from a longtime elderly collector who needed to sell off her collection as she was moving into an assisted living facility.
All pieces are authentic and antique. I will be listing more of these pieces over the next few weeks, so please check back to see what is new to my shop.

---