ART NOUVEAU BOX Early 19th century glass powder box with decorative lattice work and enameled portrait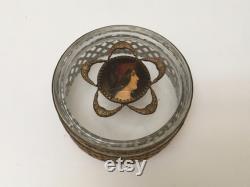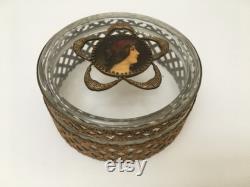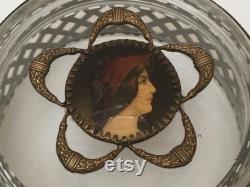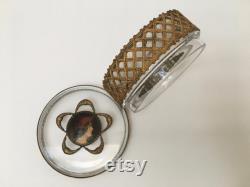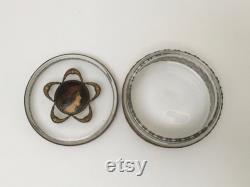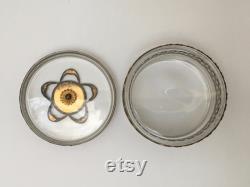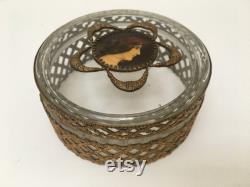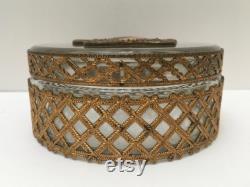 Early 19th century art nouveau round vanity glass box with lid wrapped in decorative metal lattice work and topped with enameled portrait of a woman. Lovely vanity decor box circa 1910, given the decor of brass fabric swags around the medallion on the lid. A woman's profile wearing a red hat was executed in enamel, her hair peaking from under the hat and framing her pale face. She makes me think of a pre-rapahelite beauty.
The glass portion of the box is in perfect condition, with no cracks or chips. There are a couple tiny bubbles on the lid. The metalwork has a nice patina overall and i did not try to clean or shine.
The last photograph shows you how the lattice was welded onto the glass body. The enameled medallion shows some fine hairline cracking and some distressing but remains wonderfully charming. The box measures 4 3/8 in diameter by 1 3/4 in height. If you enjoyed perusing my store, check out my other etsy store, lantiquedemeure, for antiques and decorative pieces. This item is made of glass and metal, enameled medallion.

---