Blue Satsuma Covered Powder Jar, Trinket Box, Raised Palm Trees, Water and Seagulls Scene, Hand Painted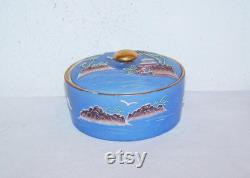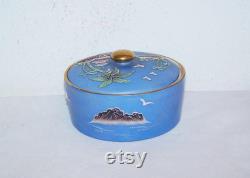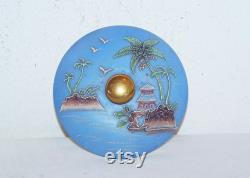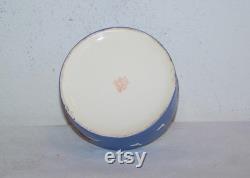 Blue satsuma covered powder jar or trinket box, raised palm trees, water & seagulls scene. Beautiful raised design, on the top swaying palm trees, seagulls, building, islands and water. On the sides, repeating scene of islands, water and seagulls. Bottom stamped in red ink, m in a heart over a half laurel wreath, and hand painted, japan (moriage). There are 2 small dots of gold missing from the top knob.
With a height, including the knob finial, of 2 1/4 in. And is in very good condition. This may not be a powder jar, can be used to hold a number of items, and would look pretty wherever you place it.

---