Cherubs Vanity Set Vintage Rose Pink Oval Ceramic Powder Box and Large Shakers Hand Painted Made In Japan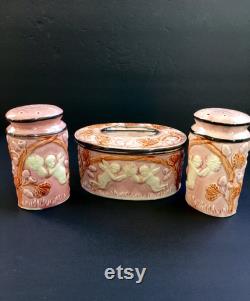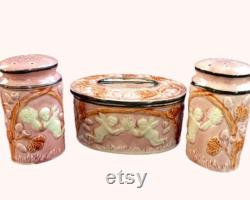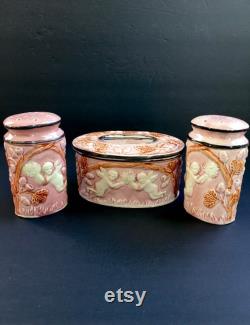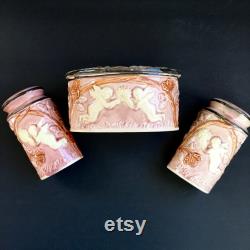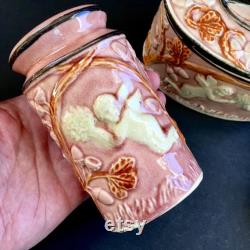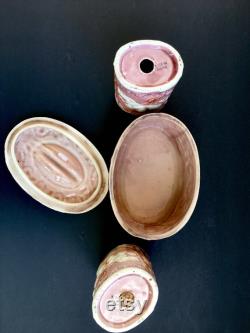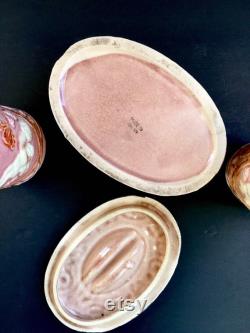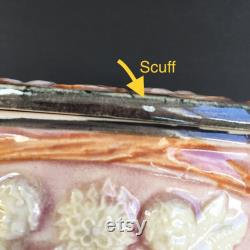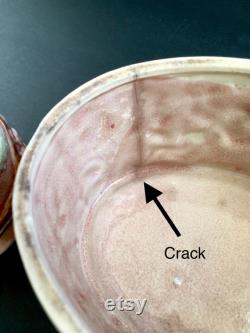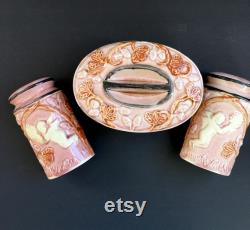 What a unique and unusual vanity set this rose pink ceramic vanity set has been hand painted and decorated with cherubs. Lovely addition for shabby chic décor or as an interesting touch to valentine's day decorating. The trio of three (3) pieces includes a large oval powder box with lid, and a pair of (2) matching powder shakers.
Made in japan is marked clearly on the bottom. These pieces do have crazing which is character that only comes from a great length of age. The shakers have the original corks in the base (although one of the corks is trapped inside one of the shakers) i didn't find any chips, cracks or restorations on the shaker set. But, the powder box has a large crack which is visible but the piece is still sturdy (please see my photos for a close up view) it's a little scuffed and bumped but still displays nicely. These were never considered to be fine pieces of ceramics from the day they were made. Many imperfections were painted over during manufacture. This is normal for pieces made in japan during the mid century. Power box is about 5 1/2" wide 4" deep and 3 tall.
Power shakers are about 2 1/2" wide 2" deep and 4 3/4 tall.

---