Coty Emeraude Perfume Powder Containers, Chinoiserie, Persian Floral Design, Vanity Decor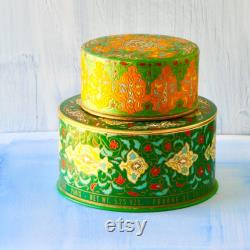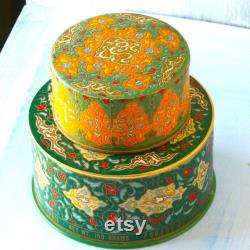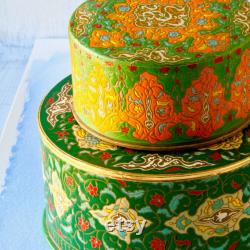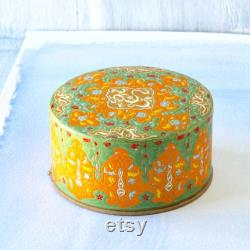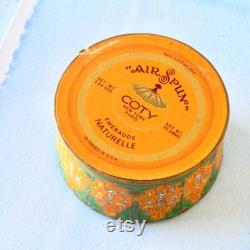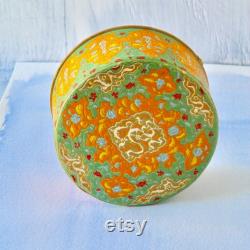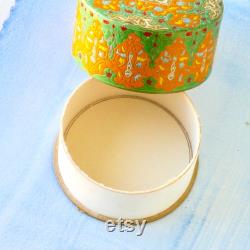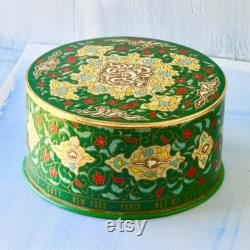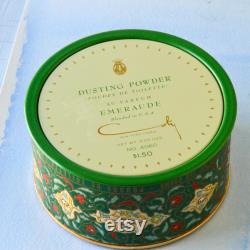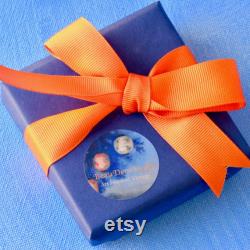 Beautiful set of two round vintage powder boxes with ornate and colorful persian inspired or chinoiserie floral designs. Empty of contents, but once contained and still lightly scented with coty's "emeraude" fragranced powders.
Embossed paper with gilded accents on cardboard. Smaller box is 3.25" in diameter and 1.5" tall. This early coty apricot orange and light green design was first introduced in 1939. Ornate embossed patterns with light blue and red flowers, yellow leaves, and accents of white and gold.
On the bottom reads, "air spun poudre de beauté" in "emeraude naturelle". Larger round container is 4.5" in diameter and 2.25" tall with a similar floral design but with an emerald green base. "Coty new york paris poudre de toilette" around the bottom perimeter in gold.
Metal bottom reads "dusting powder (poudre de toilette) au parfum emeraude". Both in excellent vintage condition with vivid color and clean interiors. Gorgeous set of vintage beauty powder containers to add to a collection, display, and store small items in a bathroom, vanity, or any room of the house. Also a unique gift box idea for someone special. This item is made of embossed paper and cardboard, metal.

---