Elizabeth Arden vintage oriental bamboo porcelain powder jar, dressing table jar, stash box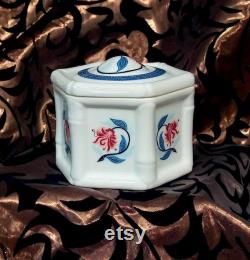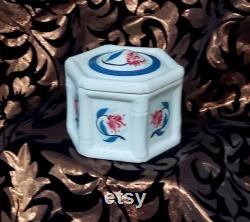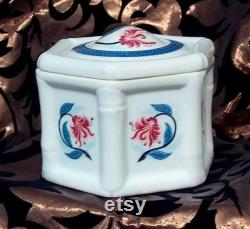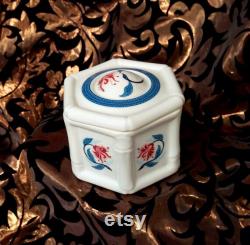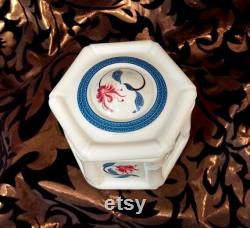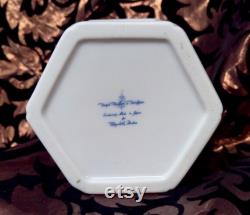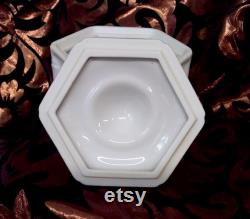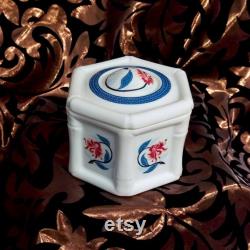 Built by king george iv of england, the royal pavilion at brighton is not only a fabulous palace, but is one of the wonders of the world housing a treasury of great porcelains and paintings, choice chinoiserie, crystals and bronzes, and beautifully created furniture and decorative accessories. In 1978, elizabeth arden was honored to be authorized by the royal pavilion at brighton to re-create the legendary designs and motifs for the 1978 elizabeth arden christmas collection. This porcelain six sided oriental bamboo powder jar with lid is part of that collection. The jar is approximately 3.75 tall x 3.5 in diameter and in excellent condition - no cracks, chips, discolorations or crazing. The images are bright and completely intact. It does not contain powder, but the scent still lingers. The bottom of the jar is inscribed with royal pavilion at brighton exclusively made in japan for elizabeth arden.
This collectible powder jar will look lovely on your vanity or dressing table. Photos are an important part of the description, so please check the photos. Because vintage pieces are aged 20 plus years and are previously loved, it's not unusual for them to show some age or wear, with the benefit that it often adds character and authenticity - nothing says authentic like a nicely worn patina.
In addition, my rehabbed and crafted pieces may have imperfections, but crafted pieces are not meant to be perfect. Their imperfect, one of a kind uniqueness is what draws the eye to them and makes them beautiful in the eye of the individual beholder.
Thank you for stopping by. I hope that you found something today that pleases you. If you have questions, by all means please ask.

---