Fenton Charleton Hand Painted Melon Puff Glass Vanity Set, Pink with Roses, 3 Pieces, Lidded Powder Box and Two Perfume Bottles Vases, Vintage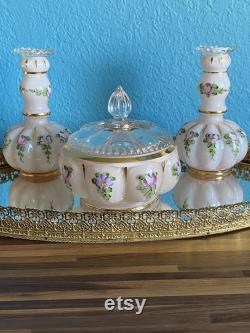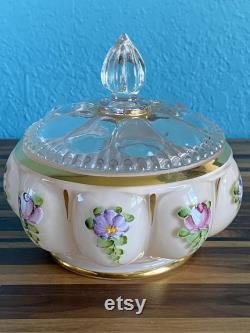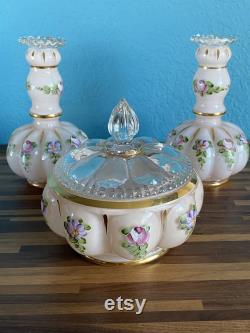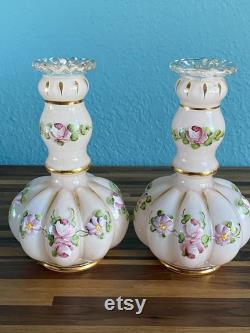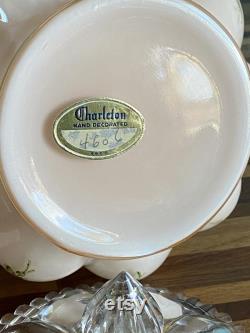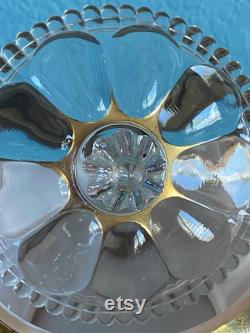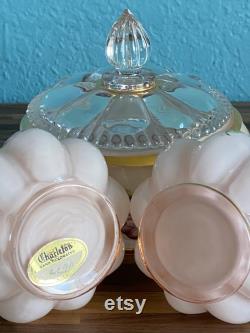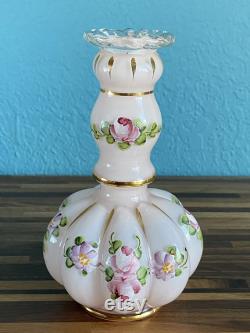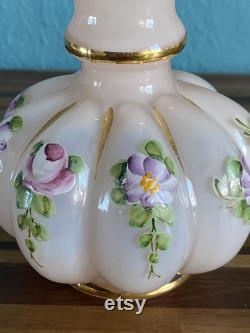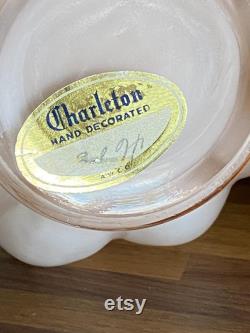 True fenton collectors will appreciate this 3-piece pale-pink, melon-shaped pale pink glass vanity set with hand-painted roses in pink and lavender, and golden accents to the edges and melon fluting. There is a sizable round lidded powder jar and two perfume bottles, all with matching melon shape to the glass. The perfect gift for a fenton aficionado. In researching the set i learned that both "vases" actually came with stoppers that matched the top of the powder jar. So it appears those have been lost. They can obviously be replaced; however, i do not feel the set looses interest knowing they are supposed to be perfume bottles vs. The powder jar and one of the vases still has the original oval and gold "charleston" label with the model #4606. I have seen many newer/reproduction sets but this appears to be vintage due to the original label. This set is in very good overall condition. There are no chips or cracks to the glass and the hand painted roses are not worn or faded. On the clear glass lid of the powder jar it appears there may have been an application of a gold flourish to each of the melon sections - they are mostly completely faded or washed away. The only other notable imperfection is the slight loss of density of coloring on one of the vases. It is not very noticeable until looking close up with the vases side by side.
Powder box - 5 1/2 " h x 5 7/8" w. Perfume bottle/vase - 6 7/8" h x 4" w x 2 3/8 base. 3 lb 6 oz unboxed or packed. I personally inspect, clean, photograph and research all my pieces. Please review photos/videos and descriptions carefully for any noted imperfections.
Feel free to message me for any additional information or photos. This item is made of glass and milk glass.

---