Green Pressed Glass Powder Jar, Shenstone England, Metal Lid Topped with Antique Catherine Klein Postcard, Waxed, Cured, Polished 3 x 1.75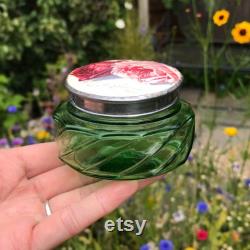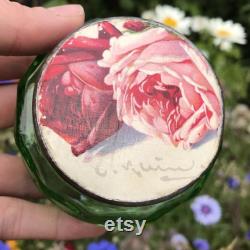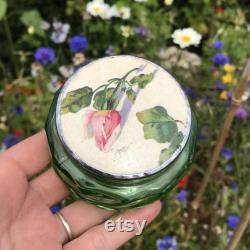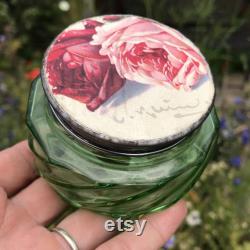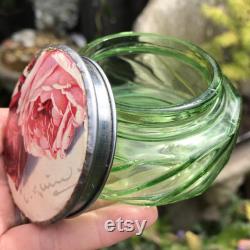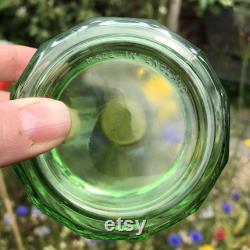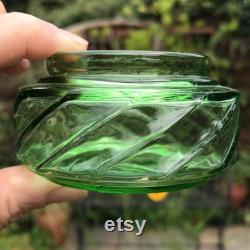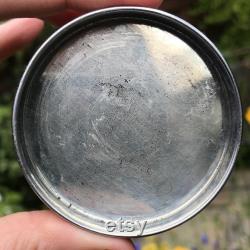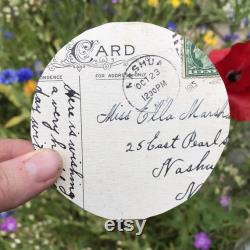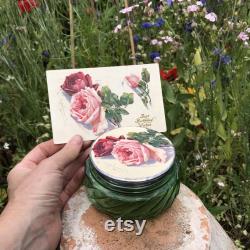 Beautiful original 1950's emerald green art deco glass powder jar by shenstone england, refurbished using an original antique catherine klein postcard (dated 1915). A totally one off quality vintage piece with a handmade twist. Please note there is a choice of 2 lid designs available - photos 2 and 3 show the options available. The outer top of the white metal lid has been refurbished with a beautiful original 1915 postcard by renowned artist catherine klein. I had two of the same postcard in my collection, the one i have used to refurbish the powder pot had writing on the reverse including a date stamp for 23 october 1915. With lid option 1 (2 roses in bloom) the section of card used to refurbish the lid has the signature of catherine klein positioned well to remain as a visible tribute to this truly amazing naturalist painter. With lid option 2 (rose in bud) there is no signature visible, as it was taken from another area of the same postcard.
The postcard top has been waxed and left to cure and then polished to give a light sheen finish and in order to protect, give stain and water resistance. This will make the lid easy to dust or wipe over with a soapy cloth from time to time if desired. The pot with its' lid in situ measures 3" across x 1.75" high.
Inside of the metal lid is an aged reflective metal surface, which still serves to give a basic, albeit not crystal clear reflection of the face. Embossed on the glass base are the words'made in england'. The emerald green pot itself is in immaculate condition, no chips, scratches, nibbles, flea bites or clouding. In quite perfect condition despite its 70 years. I have come across this pot design in my time it was made by shenstone england, most likely as a 5 piece dressing table set including a number of different sized pots for powder, cream and also for scent. The pressed glass body has diagonal geometric stripes, so typical of the art deco style, molded into its' sides. This would make a wonderful vintage gift, completely functional for powder or storage of jewellery or other trinkets etc. If not destined for an existing catherine klein collector then who knows, maybe it will spark a new interest in the wonderful woman responsible for the art work on the lid. I will always cover the parcel for loss or damage in transit. Your order will always be packed with exceptional care using majority recycled packing materials. Thank you so much for visiting. This item is made of emerald green pressed glass and white metal lid, mirrored reflective metal surface, antique catherine klein postcard.
The style is art deco and hollywood regency.

---