Houbigant April Showers dusting powder hard plastic container, with powder puff, vintage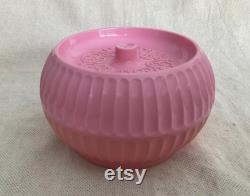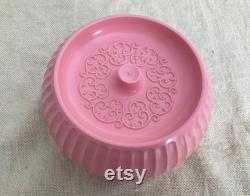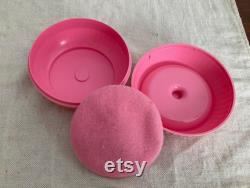 This very pretty dusting powder boy from houbigant for april showers dusting powder is a real dressing table essential of the time. It has its original powder puff and even has the original woolworth's sticker price on the bottom. The lid is decorated with embossed curlicues surrounding the central knob. It's a real echo of the past and hard to believe it is about 70 or thereabouts, and yet the faint scent of april showers lingers. Could be used to hold jewellery, change, or any small items.
Measurements: stands 3" high and is about 5" diameter at the widest part. Marks and labels: embossed mark on the base april showers dusting powder, 150g/6oz, french wording below - , houbigant, new york - montrealpoudre de bain, 9835. Condition: very good vintage - no discolouration, no chips or cracks.
There is no tracking on canada post small packets. If you require tracking, please use the drop-down to select that option.
Make sure that you have entered the right mailing address. If you do not receive your item due to providing wrong address i can not be responsible. This item is made of hard plastic and felt, fabric.

---