Lady Esther loose Face Powder Peach Shade in a paper container c. 1940s. see description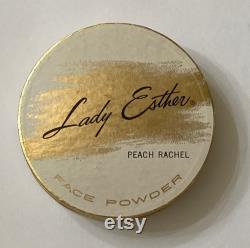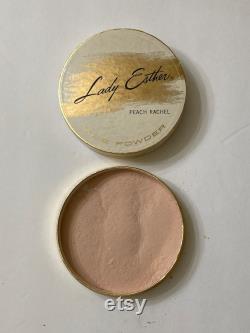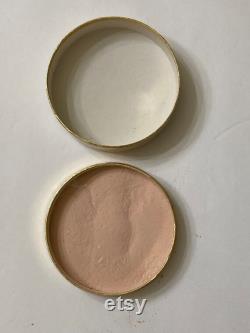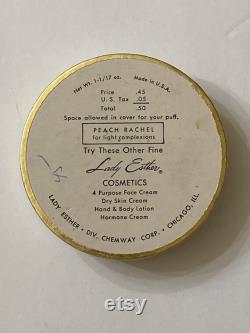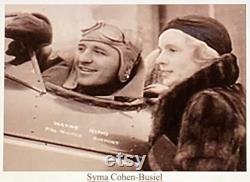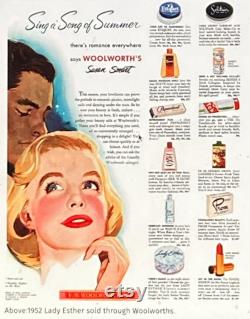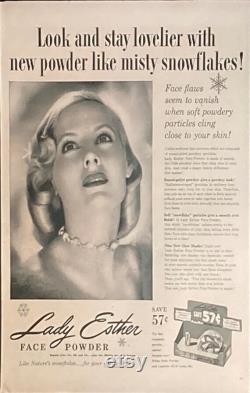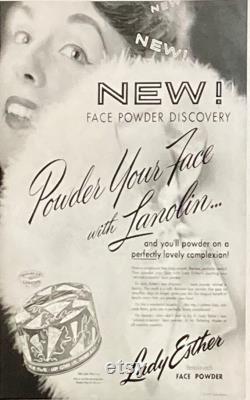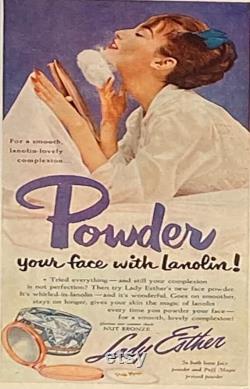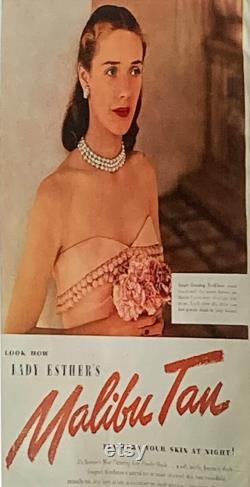 Vintage lady esther loose face powder - peach shade in a paper container c. It is nice to know a little back ground information about a particular item that is part of the pleasure of collecting. One should always know something about their vintage treasures.
The lady esther cosmetic line was established in 1913 by an enterprising and strong-willed 22-year-old young woman named syma cohen who was born in russia and raised in america. She was aided by her sister esther and brother alfred in chicago, illinois. Syma registered the name of the business in her name, but used her sisters name (esther,) in the trade-name lady esther. She felt that the name esther was more american sounding and more accepting and pleasing sounding to women. Her sister soon married after the formation of the company and she left the business.
As a result, the enterprise was run by syma and her brother alfred. In regards to her private life, it seems that syma never married but did sometime during her life, change her name to syma cohen-busiel. Busiel was her mother's maiden name.
Syma seems to have somewhat of a murky past that is not so clear. An individual listed as private user on the geni. It is my opinion that aaron cohen was less than a consistent father, and that is why several of the children changed their name to busiel. It would also help explain why ida divorced uncle harry -- that she kind of "married her father" (harry was unreliable and a drinker), ultimately leaving him as her mother probably separated from aaron.
In any case, the 7th child, born after the 1900 census was taken, alfred, was always known as alfred busiel. He and syma built the company to the giant it became, they lived like celebrities, she built a famous mansion in glencoe (which later gave way to a synagogue), lavish parties, world travel, media -- the works. In life, we can all choose our friends, but we are unable to choose our family members they are destined by fate.
Maybe syma's early family life and upbringing was the reason why she was determined to create a business many individuals from childhoods that were less than desirable manage to climb-up the ladder of success because of their hard, difficult and sometimes dysfunctional past. Many movie stars are perfect examples folks, all that glitters is not gold if movie star fans only knew what kind of lives many stars lived before, they became famous, they would be shocked. Their past lives would make interesting but sad movies. Anyway, everyone has skeletons in their closets so we will move on with syma's story.
The internet also stated that. Here is what i have heard from seymour. He remembers hearing the first batches of lady esther cosmetics were actually cooked up in the bathtub in harry's house. After harry married ida and her family fell on hard times in chicago (maybe the father cohen had left them) they all moved to holland and lived with harry and ida (including even the older brothers initially). Alfred and syma took their mother's maiden name. They would sell their face cream in drugstores, etc. And things really took off for them when one of the major chains signed a contract with them (i think maybe walgreens). Her face showed that she was an attractive and energetic young woman. Eventually, syma managed to convince a few drug stores in chicago to carry her products. And she later managed to get a large chain of drugstores (reportedly to possibly be walgreens) to carry her products.
This success helped to enhance and promote her brand name with more individuals, drugstores, and department stores. With the help of a few employees, syma started to spread word of her cosmetics outside of the surrounding areas of chicago and beyond. Syma seems to have been driven and she seems to have found her calling in life, by marketing her cosmetic products.
In her quest to promote lady esther cosmetics to a larger area of individuals, syma invested her profits into promoting the lady esther cosmetic line through in-store demonstrations, print advertising and the sponsoring of national radio programs. Syma sponsored such shows as lady esther presents orson wells and the lady esther screen guild theater. She also sponsored radio shows that provided radio broadcasts of well-known films. Radio shows provided talking versions of popular movies for thirty minutes each monday evening on cbs radio. The announcer was a man named truman bradley and the shows had an orchestra which created the mood for each radio film broadcast. The radio shows aired for 242 programs and featured radio versions of films such as yankee doodle dandy, casablanca, sargent york, and holiday inn. It is difficult for younger individuals of today to think that many people listened to such radio shows but this was during the 1940s time period, which was before the golden age of television.
Rca television made its first broadcast in 1939 at the new york world's fair. President roosevelt was the first president to appear on television when he made a speech at the event. The new york times newspaper (sadly another dying form of print information,) estimated that there were between 100 to 200 television sets in use in new york city, with perhaps 1,000 people watching. The first television sets were not only very expensive, but they offered poor black and white visual images that one could see and they were less than exciting. As a result, radio was the in-thing that most americans listened to.
It was a powerful way to advertise and syma knew it. She was way ahead of her time in the advertising field. As lady esther cosmetics continued to grow and prosper, the company built a 20,000 square foot facility at 5710 armitage avenue in chicago and in 1933, it leased a 65,000 square foot four story and basement plant of the tinker toy company at 2012 ridge avenue, evanston, illinois. The house was built on 16.89 acres and contained 19 rooms and 7 baths.
There were elaborate greenhouses and 3 formal gardens. Life was good for syma. Lady esther sales were in excess of thirty-six million dollars which would be worth $757,025,611.151 in 2022.
The current trade-mark owners of the lady esther name in the united states now belongs to a pharmaceutical wholesale company that does not have any production facilities. A german company owns the lady esther trade-mark name elsewhere in the world and produces a pretty line of modern lady esther kosmetik. At least the lady esther name lives on. Each vintage cosmetic has a unique and interesting story of its own.
This vintage item was previously used by and was part of the personal makeup collection of famed hollywood makeup artist ben lane. Lane was the former director of the makeup department for r. Pictures, columbia pictures, screen gems, and warner brothers pictures and warner brothers television.
He was a makeup artist on a variety of classic films such as: the good earth, gunga din, show boat, and countless other films of the golden era of hollywood. His last film before his retirement was the 1981 lovable classic film annie. He was one of the original founders of the motion picture makeup artists association (mpmaa,) which later in 1937 became the iatse - local 706, makeup artists and hairstylists guild in hollywood the film and television union. He was also a member of the society of makeup artists (referred to as sma on screen credits,) and an honorary lifetime member of the international society of makeup artists also referred to as isoma it is an international association of makeup artists.
Lane working and to read more about mr. Lanes wonderful career under the heading on the left titled: isoma honors. Lane had a large unique collection of vintage max factor, miners, leichner, steins, chass. Hess, zauder bros, warner brothers, westmore's of hollywood, chesebrough-ponds, colgate, cutex, devilbliss, don juan, dorothy gray, edna wallace hopper, harriet hubbard ayers, kurlash, charles of the ritz, lady ester, lilly dache, marie earle, llouis philippe, luxor, naylon by la cross, nu masca, park & tilford, ruth rogers, krypolan, ben nye, bob kelly, hazel bishop, revlon, maybelline, shiseido, mark traynor, makeup center, custom color cosmetics, isoma cosmetics, and many more. Lane also had other rare cosmetic products that were related to the beauty and film industry in his collection from his many years of working as a makeup artist in the entertainment industry of hollywood.
Such as face foundations from the 1935 elizabeth arden screen & stage cosmetic line few people today know that this line existed after elizabeth arden spent millions of dollars manufacturing and promoting it, in. Her quest to be the new max factor of hollywood.
Or the elizabeth arden of hollywood. Ben lane was one of hollywood's premier makeup artists during the golden age of hollywood movie making. This is a nice addition for the vintage collector of cosmetic products and for the vintage collector of cosmetic movie memorabilia or for those that love items from a bygone era. If vintage cosmetics could talk.
They would reveal amazing secrets and stories.

---