Large Antique cut glass and sterling silver toiletries box with repousse top. Levi and Salaman Birmingham 1902. Dressing table decor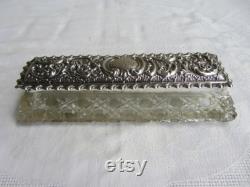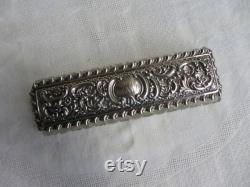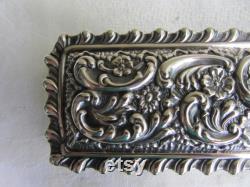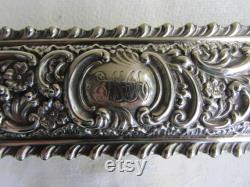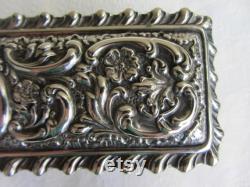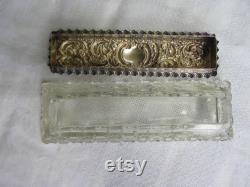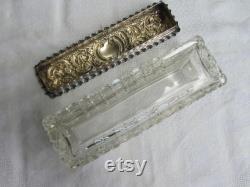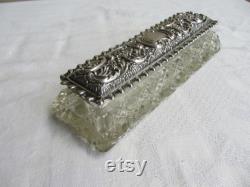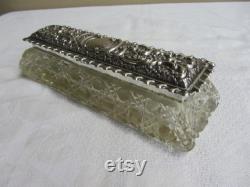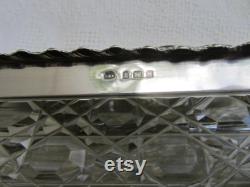 Exceptionally nice large antique hobnail cut crystal and sterling silver capped toiletries box for the dressing table it has full english hallmarks for birmingham for 190 and has the maker's initials l&s for the noted makers levi and salaman. It is highly ornate with a finely cut base and a lid with c scrolls, flowers and a gadrooned edge. The central cartouche is engraved with the original owners initials. The interior of the lid is gilded.
The glass is in very good antique condition with no cracks or chips visible with the naked eye. The cap has no dents, dings or pin holes.
It has been lightly cleaned but still retains a lovely patina. Excellent prop, and still very usable and attractive. Ideal for hair pins, rubber bands, jewellery, or a countless number of uses around the home. It is 8" / 20cm long, 2.5"/cm 6.5across and 2/5cm high. Heavy at over 550 grams, the lid alone weighing 72grams. This item is made of cut glass and hallmarked english sterling silver.

---