Large Deluxe Cut Crystal and Sterling Silver Vanity Jar Cosmetic Jar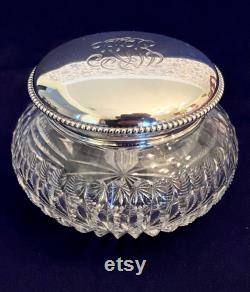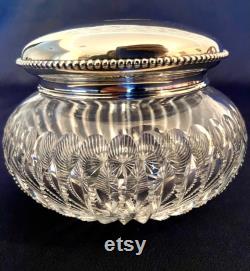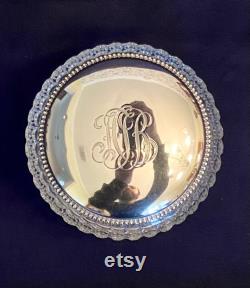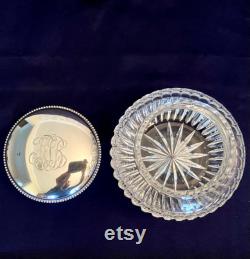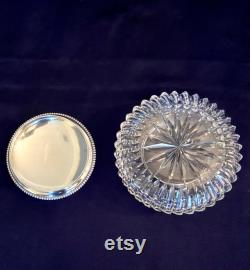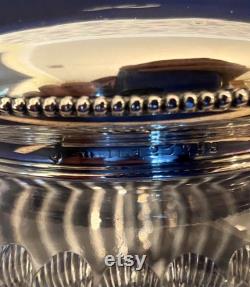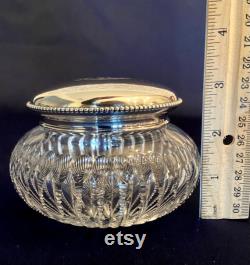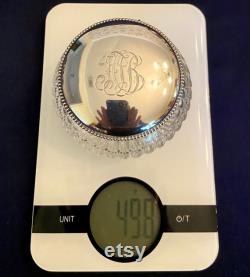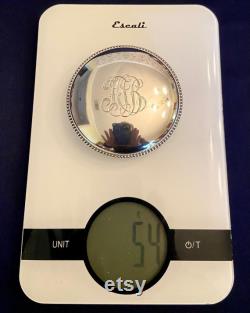 Here is a wonderful deluxe antique vanity jar of thick crystal with a heavy silver lid. The wide round jar is hand-cut with a ring of large oval facets around the top half, turning into parallel vertical ridged rows down the bottom half, with pointed elliptical facets in between. There is also a large star carved into the bottom.
The smooth silver lid has a decorative beaded edge around the perimeter. Absolutely expert workmanship and beautiful detail in the design. This jar is in excellent condition, especially considering its estimated age of about 100 years old. The crystal is solid with no cracks nor chips, and the lid has no dents nor deep scratches. I gently wiped the jar with a damp cloth and it is literally crystal clear.
I also lightly polished the lid and the silver is shiny and bright with mirror-like reflections. The top center of the lid has a monogram of what appears to be the letters hsb (or perhaps asb or even scsb) in a very flourished script- it mostly just looks like fancy loops and could be almost whatever letters you want, or just decorative swirls- see pictures.
The side of the lid is marked sterling along with the design number. This lovely antique jar is a substantial size, measuring approximately 4 inches wide and just over 3 inches tall. Both the body of the jar and the lid are very solid- the crystal is about 1/3 inch thick (just under 1 cm) and the silver is of a particularly thick gauge. Altogether, the jar weighs just barely under 1/2 kilogram (well over 1 pound) and the lid by itself weighs a generous 54 grams (1.75 troy ounces). Overall, this is a particularly fine vanity jar- a very high-quality example of an already rare category of deluxe items.
It would be a great addition to your collection and would make a luxury gift. Please ask any questions and thank you for looking. If desired, you could have the monogram removed- normally, i don't recommend this for most thinner silver articles, but this lid happens to be made of such a thick gauge of silver that the letters could be erased without fear of wearing down the metal.

---