Limoges France Porcelain Perfume Box Holding Four Miniature Crystal Bottles with Dabbers and Gold Lids Hand Painted Blue Gold Designs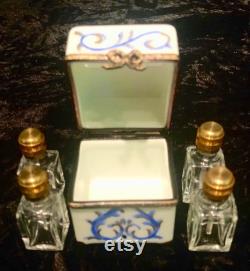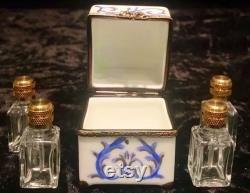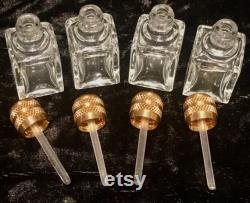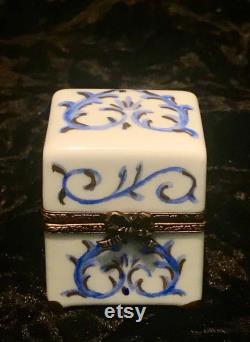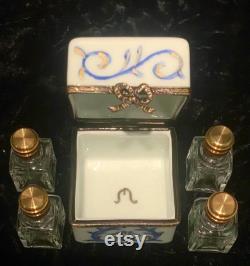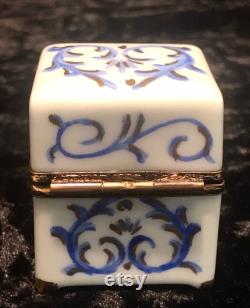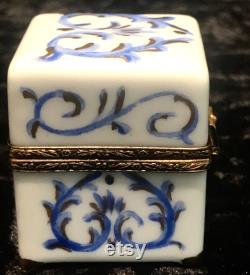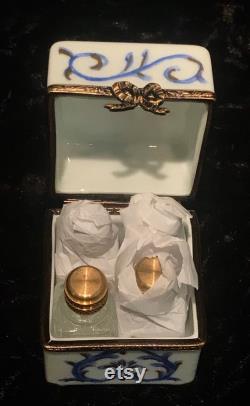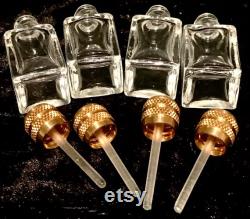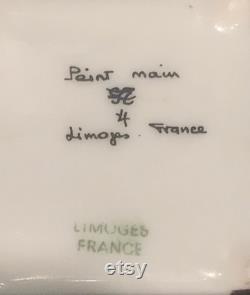 Antique porcelain limoges france mini porcelain perfume casket with four crystal mini perfume bottles inside. Each bottle has a gold lid with a crystal dabbed. You can see these are in the original papers inside the beautiful box.
The hand painted porcelain is blue scrolls and hearts highlighted in gold. It stands on four gold porcelain feet and the hinged lid fits perfectly.
A bow accents the front at the closure and used to open the lid. Very unique and incredible design inside and out. Especially the crystal perfumes inside is like finding an extra treasure once opened the bottom marked in green limoges frances and also marked with a black pen. Elegant and romantic, it holds the energy of secrets from the past as it waits to adorn your vanity or dresser, adding beauty, elegance and a touch of history from a bygone era. It stands approximately 1.75 tall with lid x approx 1.5 wide across the lid. This incredible little treasure box, as well as each of the four crystal perfumes and dabbers inside, are all in excellent condition add to your collection of limoges boxes or give as a gift to someone special, who'll love it as much as you do. Highly collectible and at a great price. This item is made of porcelain. The style is victorian and renaissance.

---