Limoges White Bisque Porcelain Jewelry Casket Dresser Box, Cherubs Goddess, France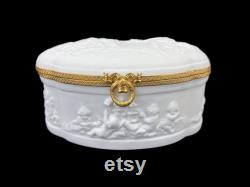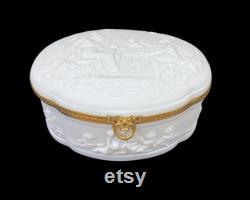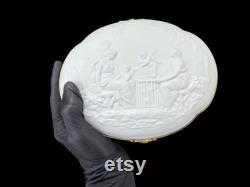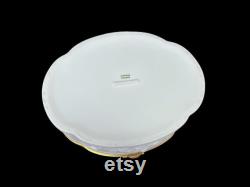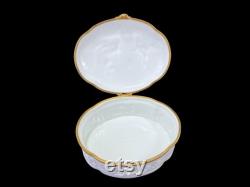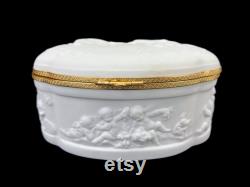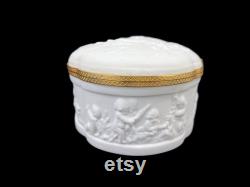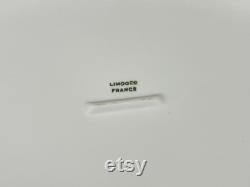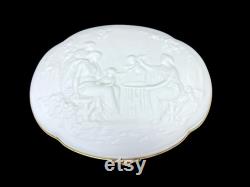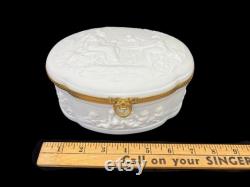 Gorgeous limoges white bisque porcelain jewelry or casket box featuring a mythical design of cherubs fluttering around what i presume are goddesses. One goddess appears to be collecting cherubs in some sort of cage; i will leave it to classical scholars to interpret that imagery.
No chips, cracks or repairs inside or out. I see a few minor spots of discoloration on the bisque as well as the gold tone hardware, but no significant flaws. Markings: limoges france marked on bottom. Measurements: about 7.25" l x 5.5" w x 3.5 h.
Weight (w/o packaging): 1 lb 13 oz. No visible flaws or wear.
Excellent - has been used and/or may have very minor noticeable flaws that do not detract from the use or aesthetics of the item. Very good - light wear and/or noticeable flaws that may warrant optional repairs, but can still be used as intended. May be missing parts/pieces, but doesn't impact use. Good - visible wear with flaws that may warrant repairs before being used as intended.
Fair - numerous flaws and/or especially fragile. Likely needs to be repaired before being used as intended. May be missing parts/pieces that impact use. Cannot be used as intended without repair. To be used for parts, repair, display or as photo props only.
Missing parts/pieces that impact use. I aim to please, and describe every item to the best of my ability. But please note that my vintage items often received frequent use back in their day, so may show visible signs of wear and age. Personally, i wouldn't have it any other way, as i treasure those marks of the past. This item is made of bisque porcelain.

---