Lot of powder boxes, puff mitts Aviance, Desert Flower, Tweed bath powder, Tussy Midnight Mitt used. Vintage 1970s. Ship incl.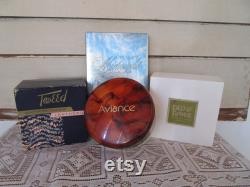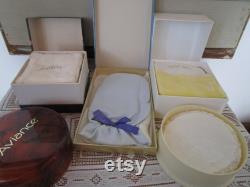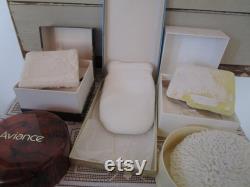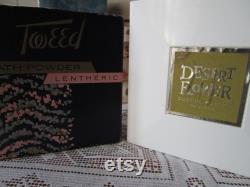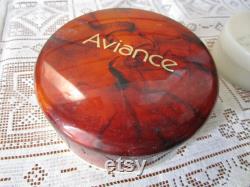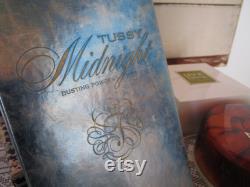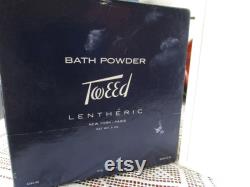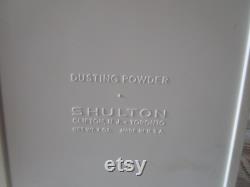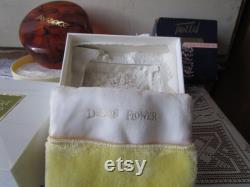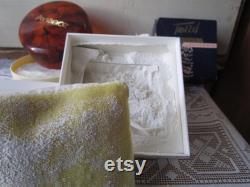 Lot of used powder boxes with puffs/mitts. Brown aviance round container, blue tweed bath powder, white square desert flower dusting powder.
Tussy midnight dusting powder mitt. Perfect to repurpose for toiletries or other uses.
Aviance box is round 4.5 inch diameter, 2 inches tall. Bottom of box indicates; emeraude dusting powder, coty div pfizer ny, net weight 4 oz. This box is plastic and the inside contains some powder and the white puff. Desert flower box is made of white hard plastic and has a label in the center, not in perfect condition, but clearly indicates the product.
Box measures 4 5/8 square, 2 inches tall. The puff is a soft velour texture with a yellow hand pocket with the desert flower logo on the top and yellow puff. There is a cardboard rim inside that the puff sits on, but rim is not in perfect condition. There is powder in the compartment below.
The bottom of the box indicates dusting powder, shulton clifton, n. Net wt 7 oz, made in usa. Tweed bath powder box lentheric box is 4 inches square and 2 5/8 tall with a pink and -grey design on the top.
The bottom of the box indicates bath powder tweed lentheric. New york paris net wt. The puff is a square with lentheric lettering in the middle. Box is 7.5 x 4 5/8 inches.
Box is cover is faded and mitt is in very good, almost new condition. There is powder in the mitt. There is some powder left.
All boxes in good condition with powder puffs that could be cleaned and repurposed. Boxes are great for jewelry or other toiletry items. These items were part of grandmother's toiletries during the 1970's or earlier.
Please convo with questions or for additional photos. This item is made of cardboard and plastic, velor material, powder, cotton powder puff, talc.

---