Luxor French Ivory Lady Pompadour vanity powder box. A lovely powder holder for a lady s vanity table. c. 1930 see description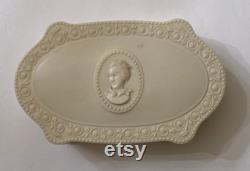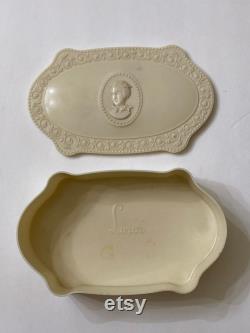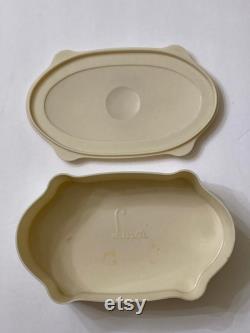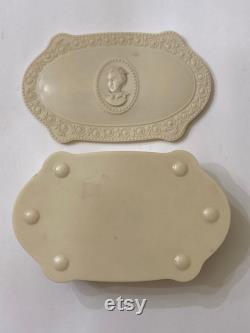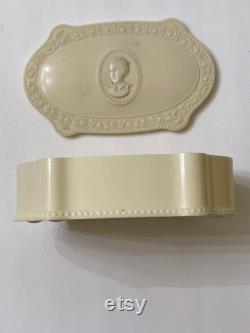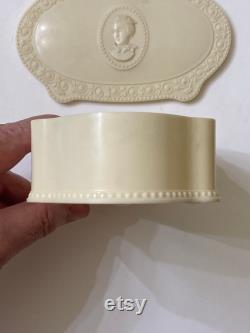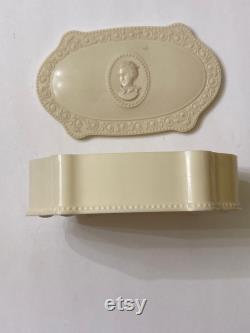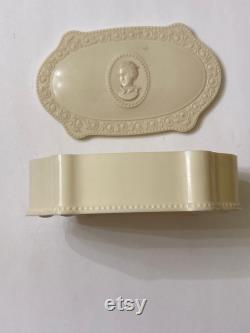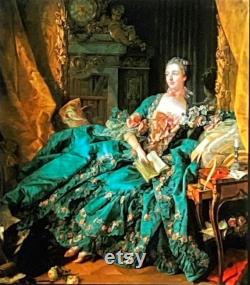 Vintage french ivory luxor lady pompadour vanity powder box. A lovely loose powder holder for a lady's vanity table. It is nice to know a little back ground information about a particular item that is part of the pleasure of collecting. One should always know something about their vintage treasures.
This is a lovely two-piece artfully curved powder holder that features a scroll design around its top lid covering, and a dot pattern around its outside base area. It is made of a material called celluloid and was referred to as a lady's french ivory vanity powder box. This faux french ivory container resembled real ivory, but it was not ivory and as a result of its appearance it was referred to as french ivory. It was a man-made plastic material called celluloid and resembled expensive natural ivory. Although it is not real ivory, many antique and vintage items that are made from early celluloid plastic are highly collectable because of their beauty, uniqueness, age, and rarity. Celluloid was the in-thing to use when it was first invented in the 1800s. It was a transparent flammable plastic material that was made in sheets when it was processed with camphor and nitrocellulose. It was a popular material to use because it could be quickly and cheaply made and was very easy to mold, shape, and handle. Items such as pool balls, picture frames, stays for lady's corsets, cosmetic containers, hair brushes, manicure implements, combs, trays, etc. Even early motion picture film was even made from celluloid.
It had one major draw-back it was highly flammable. Celluloid is so flammable that it will continue to burn even when it is briefly submerged in water.
It was also light sensitive and decayed rapidly when it was exposed to light. As a result of its light sensitivity and being a fire hazard, it's use in the making of motion picture film was discontinued when a newer material became available. Celluloid was used as a replacement for ivory and bone that had previously been obtained from elephants and various land and sea animals, which were more expensive and difficult to acquire. The use of celluloid slowly disappeared by the 1950s with the invention of newer and safer plastic materials that took its place. This is a spacious two-piece-container that is 6 inches wide x 3 3/4 inches deep x 1 inches high.
The center of the interior floor of the box displays the luxor name. The center of the outer lid contains a cameo of the famed madame pompadour (jeanne antoinette poisson, marquise de pompadour december 29, 1721 to april 15, 1764,) the image of her was taken from a 1776 painting by the french rococo artist named francois boucher.
He painted a picture of madame pompadour that may be seen in one of the above photographs. Madame de pompadour was a member of the french court. She was also the official chief mistress (ooh la la) of king louis xv, he reigned from 1745 to 1751. He was known as louis the beloved it seems that he was loved very much by numerous ladies madame pompadour was very beautiful and remained influential as a court favorite until her passing at the age of only 42.
Besides being very beautiful, she must have been very gifted too. In all fairness to king louis xv's wife, queen marie leszczynska, even though she was considered to be plain looking, she did produce ten children 8 girls and 2 sons.
However, it is unknown if the king helped her produce them, since he was so busy entertaining madame pompadour and numerous other ladies at court. The king was like a busy bee collecting all of the pollen that he could.
Many of the nobility had affairs. The look of french ivory and its aristocrat design gave one the impression that this luxor box was expensive looking women loved its tasteful elegant feminine look and it came full of useful luxor powder too. This type of luxor powder box was used at home and was not carried in a lady's purse it was simply too large to do so.
It sat on a woman's vanity table in her bedroom. As a result, a powder container (in a small paper or metal box, a small dispenser tube, or a small compact,) may have been placed in her purse for outdoor powder touch-ups. Ladies of means had a vanity table in their bedroom. One's loose powder holder was placed on the vanity table and was used to set her makeup as she sat on a cushioned stool in front of a mirror that was attached to the back of the vanity table. Such vanity tables were also referred to as a dressing table because it was where a lady sat to dress her face apply her makeup.
A vanity was a place where a woman kept her perfumes, cosmetics, and beauty implements in drawers and on top of its counter. They were used in the 17th century in france and were called a pondreuse. And in the 18th century in england and america they were called a lowboy because of their low height when one sat down. During the late art nouveau and art deco periods, vanities/dressing tables were symbols of glamour and luxury.
This was due to when women saw them being used by their favorite female movie stars in the early silent films. As a result, vanity's or dressing tables became a popular item that all women desired to have when they were applying their makeup. The term vanity sums it up best it was an item that was used to enhance one's vanity or to be more modest sounding it was simply called a dressing table where one dressed their face.
Today, such vanity tables are still referred to as a vanity or a dressing table and are placed in a woman's bedroom. The literature features pictures of the products and a brief description of each one. The literature displayed products such as: luxor complexion powder, luxor rouge parfait, luxor vanity box, luxor toothpastes, luxor complexion powder tablet, luxor cold cream, sylvan brilliatine, vano, certified hazel and almond cream, luxor tooth powder, luxor sachet powder, luxor lip pomade, luxor cuticle remover, sylvan toilet water, luxor nail white, luxor orange-wood sticks, savon luxor, luxor antiseptic foot powder, luxor liquid olive soap, luxor olive soap, luxor bath salts, luxor bath powder, luxor toilet water, luxor eyebrow pencils, luxor nail pomade, luxor toilet powder, luxor perfume, luxor aseptic nail polishing stone, luxor aseptic flexible manicure boards, creme luxor, luxor smelling salts, and karnak perfume. The luxor brand started under philip danforth armour, who was the founder and owner of the famous armour company which was established in 1867. It would become one of five leading firms in the meat packing business in america.
It started in chicago, illinois and spread out to include numerous slaughter houses and large meat packing plants in milwaukee, kansas city and cincinnati. The armour company used every part of its meat products that it could use but there was still considerable excess waste products that was difficult to get rid of. By 1910, the armour company had processed more than 12 million animals into foods and useful by-products.
This huge volume of animals left an extensive amount of waste products that were not only difficult to dispose of but it was expensive to do so. As a result, philip armour hired chemists to find ways to turn his excess waste products into useful and profitable ones. Animal hides were turned into furniture products, other animal parts were made into glue, glycerine, candles, and fertilizer. Philip armour passed away in 1901 and his son, j. Ogdon armour took over the family business and continued to try and find ways of turning every part of the animal waste products into other products.
In 1902, he applied for a patent for a cake of soap. He then created a separate company called the department of soap and toilet requisites. The professional manufacturing of soap was originally started by others in 1888, so that enterprise may have given him the idea to create his own line of soap & toiletry products from his animal waste products. It was not only an excellent way to get rid of its excess waste products but to also make a little extra revenue for the company.
The luxor name was copied from the famous ancient city of luxor in egypt. In 1910, the first luxor product produced was a cold cream, which today would be referred to as a makeup remover. In 1914, their second product was a face powder and in 1915 it presented its first rouge product in a vanity box. In a 1940 survey, luxor was in the top ten or fifteen most preferred brands for products such as: cold cream, vanishing cream, skin cream, and even lipstick.
As for its rouge, it was the most preferred brand for dry rouge. The luxor rouge was listed ahead of max factor, lady ester, richard hudnut, and several other well-known brands. Its bright red color attracted women because women knew that men would be attracted to them because of the bright red color.
Each vintage cosmetic has a unique and interesting story of its own. This vintage item was previously used by and was part of the personal makeup collection of famed hollywood makeup artist ben lane. Lane was the former director of the makeup department for r.
Pictures, columbia pictures, screen gems, and warner brothers pictures and warner brothers television. He was a makeup artist on a variety of classic films such as: the good earth, gunga din, show boat, and countless other films of the golden era of hollywood. His last film before his retirement was the 1981 lovable classic film annie. He was one of the original founders of the motion picture makeup artists association (mpmaa,) which later in 1937 became the iatse - local 706, makeup artists and hairstylists guild in hollywood the film and television union.
He was also a member of the society of makeup artists (referred to as sma on screen credits,) and an honorary lifetime member of the international society of makeup artists also referred to as isoma it is an international association of makeup artists. Lane working and to read more about mr.
Lanes wonderful career under the heading on the left titled: isoma honors. Lane had a large unique collection of vintage max factor, miners, leichner, steins, chass.
Hess, zauder bros, warner brothers, westmore's of hollywood, chesebrough-ponds, colgate, cutex, devilbliss, don juan, dorothy gray, edna wallace hopper, harriet hubbard ayers, kurlash, charles of the ritz, lady ester, lilly dache, marie earle, llouis philippe, luxor, naylon by la cross, nu masca, park & tilford, ruth rogers, krypolan, ben nye, bob kelly, hazel bishop, revlon, maybelline, shiseido, mark traynor, makeup center, custom color cosmetics, isoma cosmetics, and many more. Lane also had other rare cosmetic products that were related to the beauty and film industry in his collection from his many years of working as a makeup artist in the entertainment industry of hollywood. Such as face foundations from the 1935 elizabeth arden screen & stage cosmetic line few people today know that this line existed after elizabeth arden spent millions of dollars manufacturing and promoting it, in. Her quest to be the new max factor of hollywood. Or the elizabeth arden of hollywood.
Ben lane was one of hollywood's premier makeup artists during the golden age of hollywood movie making. This is a nice addition for the vintage collector of cosmetic products and for the vintage collector of cosmetic movie memorabilia or for those that love items from a bygone era. If vintage cosmetics could talk.
They would reveal amazing secrets and stories.

---