Mini Girls Boudoir Christmas Gift Set. Powder Puff, Powder Jar and Silky Dusting Powder. Talc and Cornflour Free.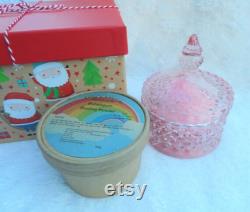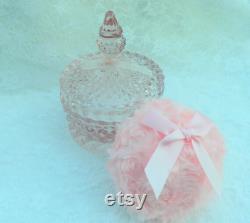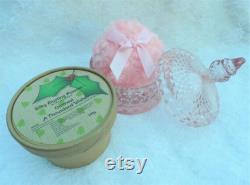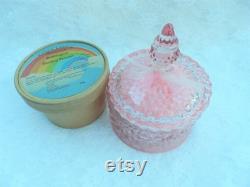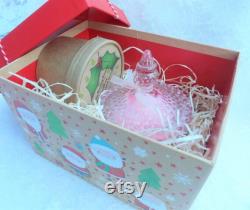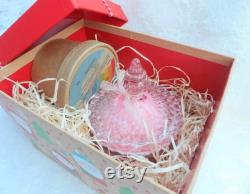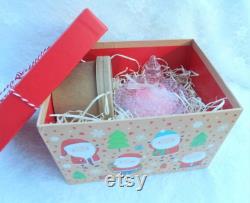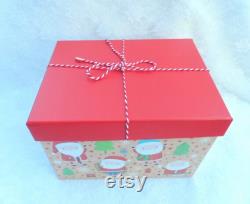 A lovely gift for a girl. A soft plush fluffy mini style powder puff.
Made with super soft faux fur and a little satin bow. A cut glass lidded powder jar that will look really pretty on a dressing table to store powder. Measures 8.3cm diameter and 14cm high.
100g of silky dusting powder, presented in a cute father christmas gift box. Bubblegum - lovely handmade silky light dusting powder.
Beautiful silky light powder, made from natural ingredients and a skin safe perfume oil. Smells of juicy bubblegum, kids love it. Made fresh and packaged to order. This light and fragrant powder enhances the skin, leaving a smooth and silky finish. Unlike talc this will not dry or leave a chalky residue on the skin. Suitable for 5 years and over. A thousand wishes - a beautiful fragrance warm the heart a thousand times over with a festive blend of sparkling champagne, crystal peonies & almond crème. This deluxe colloidal oatmeal dusting powder has an improved and longer lasting silky feel. The skin is soft, silky. Beautiful silky light powder, made from natural ingredients. This item is made of colloidal oatmeal and organic tapioca, organic arrowroot, kaolin clay, parfum, polyester puff, glass.

---