Pair of Lalique Design Powder Compact Box, BLANCHE and ROSE No1 Art Dec Paris, Vintage 30's Collectible, France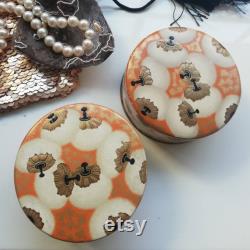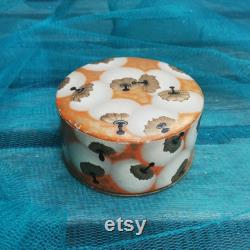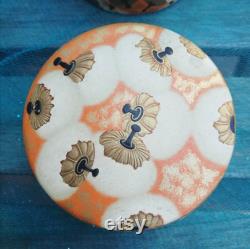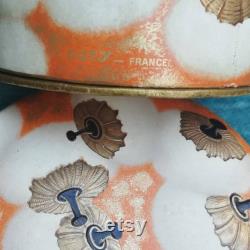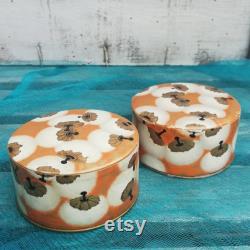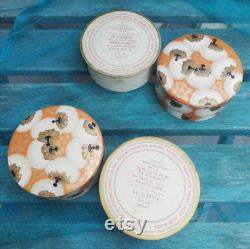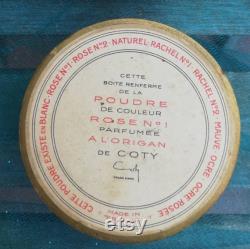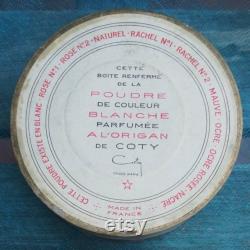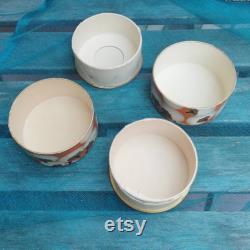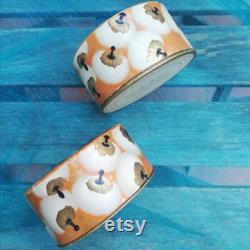 Two lovely vintage art deco powder boxes from the french brand coty. The box is round in shape, made of thick, stiff cardboard (or similar material) and both the top cover and the entire side contour show an elegant pattern designed by rené lalique, of delicate cotton tassels or pouffs in black and gold colors on an orange satin background. Its interior is bone-white in tone and on its outer base is attached an antique round paper label where you can read the information of the item, the original contents and that it was made in france. It was a container for luxury make-up facial powder. René jules lalique (1860-1945) was a french master glassmaker and jeweler, known for his creations of art glass, perfume bottles, vases, jewelry, candlesticks, clocks and hood ornaments for automobiles. These two wonderful toiletries are perfect to add to a treasured collection, in very good condition considering they are almost 100 years old although they show some slight signs of aging. The text on the lower outer base reads "poudre de couler blanche parfumee a l'rgan de coty" and "made in france" on one box and "poudre de couler rose n1 parfumee a l'rgan de coty" and "made in france" on the other. Despite the inevitable signs of age, they are a superb collector's item, rare to find, and truly a box to fall in love with.
This item includes the two powder boxes. Diameter 7 cm / 2.75 in. Please read carefully all the description and photos of the item before placing your order. (the photos of the item are taken in natural light and no filter has been added, although depending on your screen settings the colors may differ slightly from the original).
I will be happy to answer any questions or send additional photos. I apologize for any errors in my descriptions. It is probably due to the automatic translation into your language, since it is done through the own system. Please note that the vast majority of my pieces are vintage or antique items so their small flaws, if any, are part of their charm.
If there is something remarkable in their condition (such as a crack or a chipping) i expressly specify it in their description and photos. I deliver them clean and polished, respecting whenever possible their original patina, acquired with their age and the passage of time. I usually use recycled material for packaging, although if you want the item for a giveaway or raffle, i will consider it for proper presentation. Please feel free to ask me anything you need and if you want to follow my store news and updates, bookmark it as my favorite. Thanks for taking a look at my little treasures.
Vintage powder compact box 20s-30s. This item is made of card board, paper and thick cardboard.

---