RARE 1940s Dream Stuff WOODBURY Powder Box Vintage Compact Blue and White Art Deco Celestial Lady Vanity Case 40s Cosmetics Makeup Beauty Prop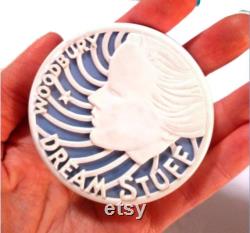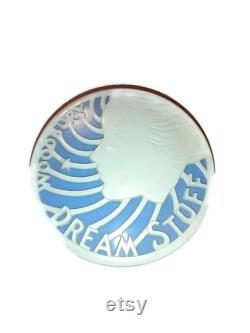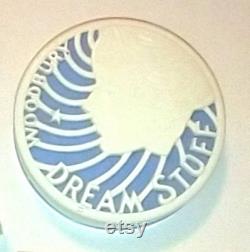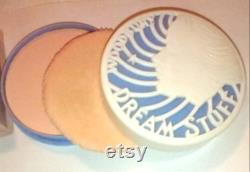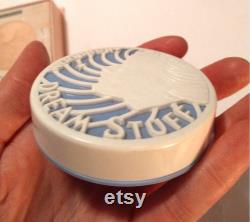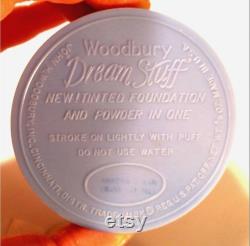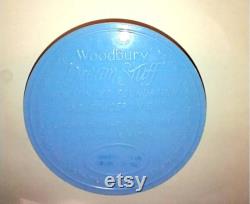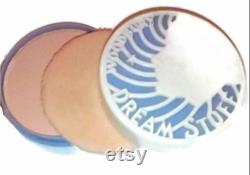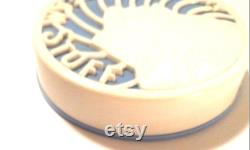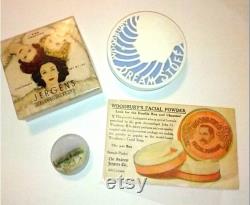 Beautiful dreamy & extremely rare woodburys'dream stuff' tinted foundation & pressed powder (in one) box vanity case compact, art deco celestial starburst vanity case, vintage blue & white hard plastic (i believe it's made of celluloid plastic, that they don't make anymore). Powder box in a dreamy sky blue color background with a raised white 3d relief of a beautiful art deco lady that has her face to the celestial art deco starburst sky. This was one of the first of its kind of having both pressed face powder & foundation in one compacts to have come out during this era. This is an amazing piece of 1940s glamour vanity collectible. There is still lots of pressed powder left with a powder puff (unsure if it's the original puff).
The case itself is in fabulous clean vintage condition, without any cracks or dirt between the design casing. The last photo shows a small collection of woodbury, jergens face powders & rouge. Would make an awesome film or movie prop that is set in the early 1940s.
Not recommended for actual wearing or use, due to age of contents. Makes for a gorgeous vanity display piece for a vintage or art deco vanity dresser display along with your other powder box & compact vanity case collection on your dressing table or boudoir. A wonderful gift for the vintage makeup, beauty & vanity cosmetic, face powder collector in your life, including yourself.
Era: early 1940s, around 1941 or 1942. Condition: great vintage condition considering its age; may be some little obvious wear consistent with age & use; please see photos in zoom view for all closeup details. Cincinnati, ohio, made in usa john h. This is a highly collectible book piece, very rare. As found in one of several of roselyn gerson's collector books on vintage cosmetics, compacts & beauty collecting.
More vintage vanity & beauty. This item is made of face powder, powder puff used, hard plastic case, vintage vanity case and celluloid plastic.
The style is art deco and hollywood regency.

---