RARE Antique Countie of Boston Magda Toilet Cold Creme Jar, Blue and White Countie Porcelain Jar, Victorian Vanity Jar, Vanity Decor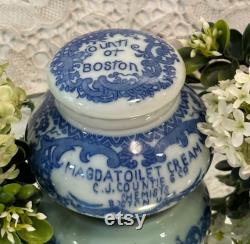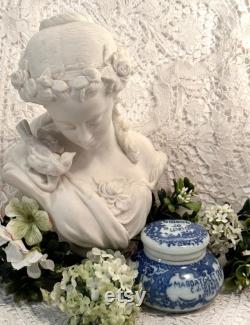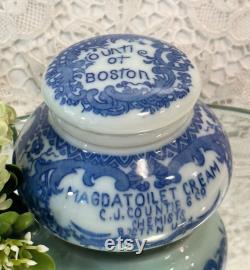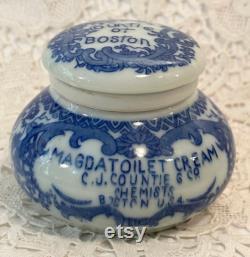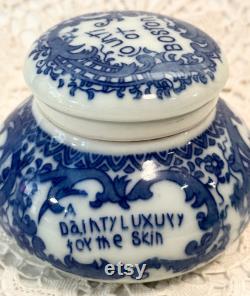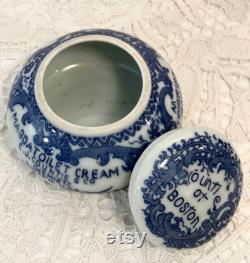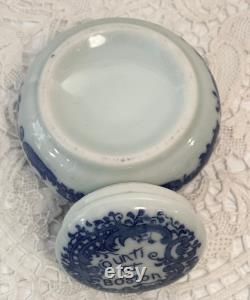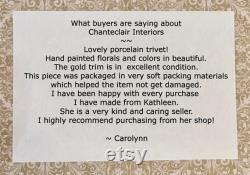 Rare antique countie of boston magda toilet cold creme jar - antique victorian blue and white vanity jar - victorian advertising. Measurement: 3-1/2" across x 3" high. This is an incredibly rare and wonderful countie of boston magda toilet cold creme jar. Done out of white porcelain, this jar has a beautiful blue scrolled pattern.
On the lid top are the words "countie of boston". The sides read " a dainty luxury for the skin".
"An exquisite communion of rare blossoms". Countie & co chemists boston u. Condition: this beautiful 100+ year old jar looks like it was never used beautiful and clean. No cracks, chips or wear.
Just some aging along the inside inner edge of the lid. I couldn't believe it when i came across an article regarding the history of this beautiful jar. Here are portions of letters written by two of the countie family members. My grandfather francis' two uncle's john and charles started this business in the late 1800's.
They called it magda toilet cream. They were chemists in the beauty business and developed this wonderful cream.
Because it was in such demand, cheeseborough company, which is now pond's bought the formula and called it pond's cold cream. They used the porcelain jar back in those days because of it's lower cost.
This is a letter dated august 2020 from lori berman, a member of the countie family. A couple of years ago, my aunt jeanette countie gave me one of the original jars that belonged to the sister of what would have been my great great uncle charles countie's formula for his popular face cream magda toilet cream. Here is a little more history. The drugstore on charles st.
In boston was in the front of beacon hill. He created this cream that had enormous popularity at the time, even with american actress lillian russell. He sent to china to have these little jars made for the cream. The original jars are countie of boston on the top. Magda toilet cream is on one side with c. If this jar reads countie of chicago, it is not the original authentic jar. (like anything nice, it is a duplicate from the original jar). I believe this to be the rest of the history to the story of the wonderful pottery jar called magda toilet cream.
My aunt jeanette passed away last year and this was a letter of the story that she wrote to me in her own handwriting. Thank you sherry for keeping the legacy of this jar continuing. A true and rare collectible piece.
And perfect for any room. Gorgeous as a vanity piece, and wonderful as an advertising item. Policies: to view complete store policies, click on "announcements" on my home page just under the thumbnail photos. Bubble wrap, while protective, can sometimes be too stiff for a very fragile item, and the plastic bubbles, can also leave permanent round marks on old pieces. Therefore, i order very soft cushioned pads from our local medical supply, and wrap each item first, in these protective pads, and then additional packing such as bubble wrap, and protective cardboard are added. Depending on the individual needs of each item. Old iron, is quite fragile. Each piece is carefully wrapped with all of the above.
Reserves: items can be reserved for 24 hours. If you need longer, we can talk, and i generally require a tiny deposit. If you still have questions, don't hesitate to ask simply click on" "ask question just to right of the item price.
Be sure to follow on. This item is made of advertising collectible, porcelain and vanity decor.

---