Rare Antique Rose Fin de Theatre Bourjois Face Powder Box French Face Powder Make-up Cosmetics A Bourjois and Cie Paris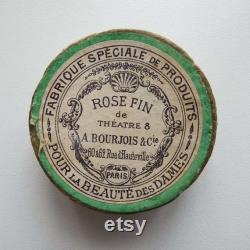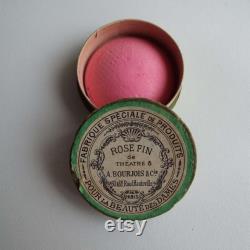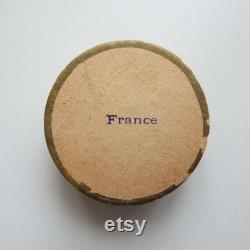 Rare antique powder box complete with original domed powder. Round cardboard box decorated in green , with gold edging. White label with product information to lid.
Inside is the original pink domed powder, unused. 60 & 62 rue d'hauteville. (this address had been used for years by bourjois and in the early 1900's perfume was also added to the operations).
Alexandre napoleon bourjois was fascinated by the world of theatre and wanted to create makeup that was easier to apply than the commonly used greasepaint. In 1863 a bourjois created a dry blush powder which was coloured and scented. The rose-scented powder was shaped into a dome and packaged in small cardboard boxes. The boxes were marketed as good quality products for stage make-up and every day make-up. The powder box is in fabulous condition, considering age.
There is a little wear to the rim, but it is largely intact. The powder dome is unused. This would make a lovely addition to a collection, as it displays rather well.
This item is made of cardboard and powder.

---