Rare Tetlow Perfect Complexion Powder paper box with No. 16 Flesh powder. c. 1900 see description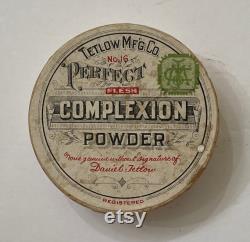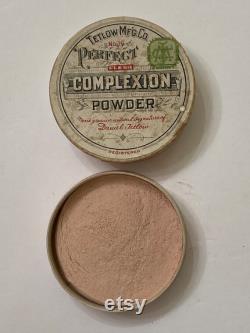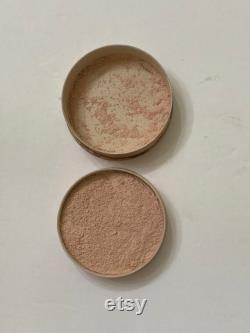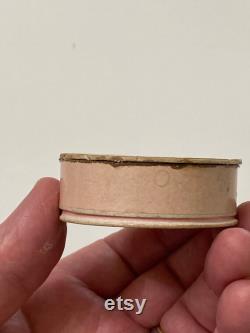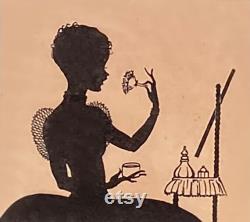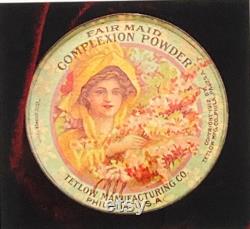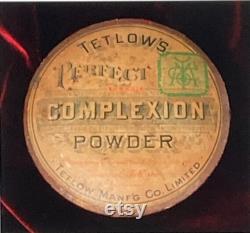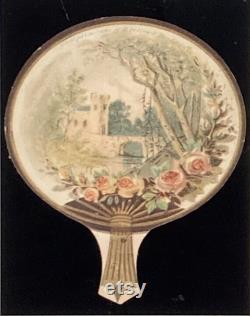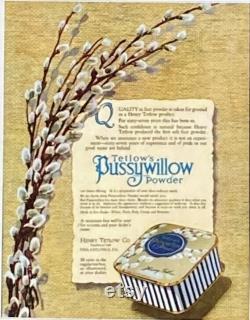 Rare vintage tetlow perfect complexion powder paper box with no. It is nice to know a little back ground information about a particular item that is part of the pleasure of collecting. One should always know something about their vintage treasures. This is a very rare vintage cardboard paper box powder container with a very interesting history behind it.
16 flesh shade powder in a rare vintage paper box. It is amazing that it has survived since it is 122-years old. Henry tetlow was born in august of 1838 in manchester, metropolitan borough of manchester, greater manchester, england. His brother daniel tetlow was born on around 1846 in england possibly in the same area. Many families did not keep birth records especially if one was born at that time period in a rural area.
They may have lived too far from any form of official registry office, if there was one, and they may have felt that there was no need to spend the time and effort traveling so far to report a simple birth. Many people of that time period also felt that it was not necessary to do so. Many people seldom traveled more than 10-miles from their home traveling was a difficult thing to do on horse-back even if you owned a horse.
Things were quite different almost 200-years ago than they are today. As a result, there is little known about their past family history.
It is known that the two brothers ended up in america. Henry seems to have come first by himself or with family members. Henry must have surely come (as many immigrants did in the early years of america) to create a new and better life for himself. Although he was very young, the poor grew up fast in a world of reality, knowing that their life was hard and they needed to improve it fast. It was a similar situation for early human kind, one needed to find their next meal as quickly as possible or else starve.
America was a touted as a land where it was said to be possible to do anything if one worked hard. America was growing quickly, it offered jobs, free land, hope, and dreams. Henry most likely came with relatives and for sure settled in philadelphia, pennsylvania with two family members. After all, henry was only about 10 or 11 years old.
A soap making business that is said to have been started by a gentleman named thomas worsley, had two employees named james tetlow and john tetlow, whom were both english immigrants and they were most likely relatives of young henry and each other. In that time period, poor people used their children and any extended family members that lived with them as child labor, in order for them to earn their keep, if one wished to eat and have a place to stay. Henry must have started to work for thomas tetlow in 1849, as a helper when he was 11-years old because this was the same year that henry later claimed in his company advertisements that he had established his business it may have been henrys way of enhancing his company's long in existence business reputation by doing a little creative advertising, and added the time that he first started working with his relatives in the soap company that he would later own. There are many blank spaces in the early life of henry when he was working in the soap factory. The next stage of his reported life and career states that around 1865 (16-years later,) when henry was 27-years old, he was ready to start his own business. This is easier said than done. It takes quite a bit of capital to establish one's own business by themself. Another cloudy moment in henrys life and career states that while he was working at the soap factory, henry had discovered a safe base for making face powders. Where did the process of making face powders come into the picture and henry becoming an educated and knowledgeable inventor while he was working hard in a soap making factory and where did he get the time to invent, and the ingredients, and why was he interested in face powders and improving them up to that time, many face powders were comprised compounds that included lead, arsenic, and bismuth. Some ingredients were of were poisonous.
Somehow henry had discovered that if one used a harmless and very cheap product called zinc oxide as the main base for face powders that the powder would not change color. The use of face powders and rouge cosmetics was not worn by most women in america during that time because it was an expensive luxury for the poor and it was frowned upon by average women as being a painted woman of ill repute. However, it was popular with the wealthy and educated aristocrats in england and france, who were concerned with fashion and beauty.
The masses of average american women at the time were more concerned with struggling to adapt to a new country, birthing and raising many children, helping their husband to work their farm or crop fields, and simply trying to survive fashion and beauty were out of their realm of thoughts. However, the higher-class women in american society because of their husband's wealth, desired fashionable clothes and beauty products that would not only enhance their personal beauty but help to prolong it. But even the rich like to pay a low price for a product. As a result, a product that was lower in cost and was similar in quality as the previous face powders that were marketed, was a desired item for women and a profitable one for the maker of face powder products.
Over time, eventually even average american women would slowly start to wear face makeup such as powder and rouge. Face powder was not only used to lessen the shine on a woman's face it was also used to lighten or whiten a woman's skin color. All through history it has been reported that women of any nationality or race were prized for their beauty and paleness of skin. It made them stand out and be considered prized object in the eyes of men. Women that worked in the field to grow crops to eat and sell, had darken sunburnt skin. Women who were considered to be a refined lady of means did not work in the field and stayed out of the sun and as a result, their skin was light or pale looking. But even women who were light skinned desired to be even lighter in order to be more special one's vanity and ego have always been a part of human nature.
Women have always been concerned by their appearance, because that is what has made them special and valued since the beginning of time besides of the other obvious reason of why men desire women a pretty face is an extra asset. Even though the use of cosmetics such as face powder and rouge in the beginning were frowned upon by average american women, there was still a large market for such goods, especially since america was growing more populous each year and a wealthier class was emerging due to their hard work.
The wives of the newly wealthy desired to look as fashionable as their lady friends and be desirable in the eyes of men. Unfortunately, for henry tetlow, he did not patent his zinc oxide formula. As a result, with-in ten-years-time, countless makers of face powders appeared on the market. Such as the colgate company. Henry did not do this unfortunately.
Also in 1875, he brought his younger brother daniel tetlow into his business and re-named his company henry tetlow & brother. And he changed the name of his other products too, by using his name first before the band name. By 181l, the company had become known as tetlow's perfumery. Henry's product list included: farnese tablets for the complexion (1871,) shell pink rouge (1871,) blanc illusion (1874,) henry tetlow's swan down (1875,) gossamer complexion powder (1876,) pearl plume (1905,) blue moon (1911,) pussy-willow (1915,) and sweet sixteen 1916. What helped sell henry tetlow's products was his colorful packaging presentations. They were small works of art that used female stage personalities later in the 1920s, the famous max factor in hollywood would use silent screen and sound movie actresses to promote and sell his cosmetics. Henry also created a gift set of cosmetics, that consisted of face powder, rouge, and cotton applicators.
Henry promoted his products by having pasteboard fans made with advertising on one side and a beautiful picture on the other side and gave them out as promotional items to advertise his products. Fans were very useful items for cooling one's self on a hot summer day and they were a pretty fashion accessory that women carried with them during the warm weather months when they visited friends or attended church services.
Some of his products featured images on the covers that brings to mind the thoughts of ancient greece or rome and were wonderful examples of mid 19th century printing. Even though henry tetlow had kindly brought his younger brother daniel into his business, there seemed to be a great deal of discord between the two brothers. Success, wealth, and fame can do strange things to a relationship. There is no recorded record of what transpired between the two brothers. But one thing is for sure, daniel tetlow left in the 1880s and established his own company.
This surely must have created a great deal of hurt and bitter resentment in henry who had brought daniel into his business and nurtured him professionally. Daniel must have possessed a great deal of animosity towards his brother henry. Was it jealousness was it bad treatment by henry no one knows they were like two married couple applying for a bitter divorce there are always two-sides to every story in a divorce. There is the wife's side and there is the husband's side and somewhere in the middle is the truth unfortunately we shall never know the truth since there is no record of each side sharing the events of their personal lives that led to the dissolving of their business and personal relationship was it really worth it for either one to lose a brother's love.
Henry tetlow's establishment was re-named tetlow toilet powders & perfumery company, it was located at the corner of 10th and cherry streets in philadelphia. Daniel tetlow's new establishment was called tetlow manufacturing company it was located at 59 north mascher street in philadelphia. There were subtle differences in their labelling, but henry never sued his brother daniel for infringement. The new company stationary referred to joseph tetlow as the successor to his father and reinforced the fact that there were now two separate tetlow companies that produced powder products, perfumes and other toilet items.
After daniel tetlow established his tetlow manufacturing company he became known for his products that he called: elder down (1888,) dermis (1892,) fleur de lis (1906,) and fair maid 1912. The only known metal vanity box that was ever marketed by daneil's tetlow manufacturing company was for his fair maid product. The case was made by the american stopper company.
Daniels company went out of business around 1923. The soap opera drama continues. Josephs wife, clara tetlow succeeded him in owning the business. However, as it always is in such cases henry suddenly made or was convinced to make a new will in 1917. He named his new young wife elizabeth as the sole beneficiary of everything he possessed. Henry's grandchildren who were suppose to inherit all of henry's fortune (estimated at $500,000.00 in 1917 which would be equal to $13,940.100.00 in 2022 nice) but all of that changed with the new will. To protect their respective interests in the will, the grandchildren took the matter to the supreme court of pennsylvania and in february of 1921. They lost the case sad young elizabeth was entitled to everything hopefully she made henry a very happy man in the final years of his life. As they say in the massage business hope henry had a happy ending. The henry tetlow company continued on and enjoyed modest success under young henry ii management. The company introduced a major product re-launch, with tetlow's pussy-willow brand in 1920.
Sadly, the company would never be the same as it was in its hey-day. During the 1920s and 1930s the company managed to continue on and made a few changes. It became incorporated in 1924.
In 1934, it relocated to a new business address and in 1926, it opened an office in chicago, illinois. Even though this was all done, it is said that henry tetlow ii had lost his passion for running the tetlow cosmetic business. He had become more interested in running his small farm and being away from the stressful life of managing a business that he had not built himself. He eventually wrote two books on hobby farming in 1938 and 1940.
There are no known references to what happened to the tetlow company after 1940. Like the rise and fall of empires it too succumbed to its fate.
However, the name henry tetlow should be remembered as an important part of the american cosmetics industry. Henry tatlow's personal life and passing. During henry tetlow's lifetime, he had married martha b.
She was was born in 1841. She passed away in 1901 at age 59-60, and was buried in west laurel hill cemetery, bala cynwyd, montgomery county, pennsylvania, usa plot 16. Together they had one son named joseph tatlow. Henry later married eliza jane jarman tetlow. She was born on february 19, 1873 in new jersey and passed away in 1931 at the age of 57-58 in pennsylvania, usa.
She was buried at the washington memorial chapel churchyard, valley forge, montgomery county, pennsylvania, usa. Henry tetlow who was born in august of 1838 in manchester, metropolitan borough of manchester, greater manchester, england, passed away at the age of 80 on january 6, 1919, in pennsylvania, usa. He was buried in washington memorial chapel churchyard valley forge, montgomery county, pennsylvania, usa.
Henry tatlow's son joseph tetlow, was born in january 1864 and passed away on august 20, 1911 at the age of 47 in amityville, suffolk county, new york, usa he was buried at west laurel hill cemetery, bala cynwyd, montgomery county, pennsylvania, usa plot 16. During josephs tetlow's lifetime, he had married ida tetlow mallory darcy. She was born in 1863 and passed away in 1948 at the age of 84-85. She was buried in west laurel hill cemetery, bala cynwyd, montgomery county, pennsylvania, usa plot 16. Together they had a son named henry tatlow ii who was born on july 12, 1893 and passed away on april 18, 1958 at the age of 64.
Henry tetlow ii was a 1st lieutenant, co i 314th infantry 79th division, usa, and was wounded during action in world war i. As a result of his being in the military, he was buried at the arlington national cemetery, arlington, arlington county, virginia, usa. They also had a daughter named grace tetlow buchanan. Grace was born on august 1, 1889 in philadelphia, philadelphia county, pennsylvania, usa.
She passed away on august 19, 1953 at the age of 64 in philadelphia, philadelphia county, pennsylvania, usa. Daniel tatlow's personal life and passing. Daniel tetlow was born about 1846 in manchester, england at most likely the same address of henry tetlow as mentioned above.
Philadelphia, pennsylvania on december 13, 1900 at the age of 54. He was buried at west laurel hill cemetery, bala cynwyd, montgomery county, pennsylvania.
During daniel's lifetime, he had married clara. (tetlow,) she was born on october 28, 1854 and passed away on january 8, 1933 at the age of 78 in philadelphia, pennsylvania. She was buried at west laurel hill cemetery, bala cynwyd, montgomery county, pennsylvania plot 363.
They had no known children. Each vintage cosmetic has a unique and interesting story of its own. This vintage item was previously part of the personal makeup collection of famed hollywood makeup artist ben lane. Lane was the former director of the makeup department for r. Pictures, columbia pictures, screen gems, and warner brothers pictures and warner brothers television. He was a makeup artist on a variety of classic films such as: the good earth, gunga din, show boat, and countless other films of the golden era of hollywood. His last film before his retirement was the 1981 lovable classic film annie. He was one of the original founders of the motion picture makeup artists association (mpmaa,) which later in 1937 became the iatse - local 706, makeup artists and hairstylists guild in hollywood the film and television union.
He was also a member of the society of makeup artists (referred to as sma on screen credits,) and an honorary lifetime member of the international society of makeup artists also referred to as isoma it is an international association of makeup artists. Lane working and to read more about mr. Lanes career under the heading on the left titled: isoma honors.
Lane had a large unique collection of vintage max factor, miners, leichner, steins, chass. Hess, zauder bros, warner brothers, westmore's of hollywood, chesebrough-ponds, colgate, cutex, devilbliss, don juan, dorothy gray, edna wallace hopper, harriet hubbard ayers, kurlash, charles of the ritz, lady ester, lilly dache, marie earle, llouis philippe, luxor, naylon by la cross, nu masca, park & tilford, ruth rogers, krypolan, ben nye, bob kelly, hazel bishop, revlon, maybelline, shiseido, mark traynor, makeup center, custom color cosmetics, isoma cosmetics, and many more. Many of the items in mr. Lane's rare cosmetic collection were related to the beauty and film industry, they were from his many years of working as a makeup artist in the entertainment industry of hollywood. Such as face foundations from the 1935 elizabeth arden screen & stage cosmetic line. Few people today know that this line even existed after elizabeth arden had spent millions of dollars manufacturing and promoting it, in. Her quest to be the new max factor of hollywood.
Or the elizabeth arden of hollywood. Ben lane was one of hollywood's premier makeup artists during the golden age of hollywood movie making.
This is a nice addition for the vintage collector of cosmetic products and for the vintage collector of cosmetic movie memorabilia or for those that love items from a bygone era. If vintage cosmetics could talk. They would reveal amazing secrets and stories.

---