RARE Vintage Brass Powder Box with a Cameo, Inside Mirror (4 1 2 W X 2 3 4 T) and Powder Puff and Porcelain Half Doll Vanity Sweep.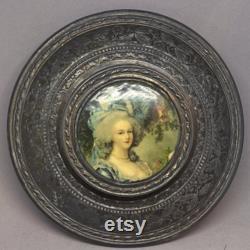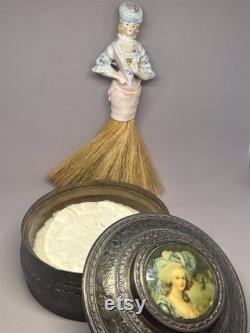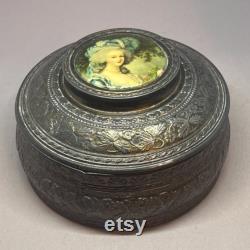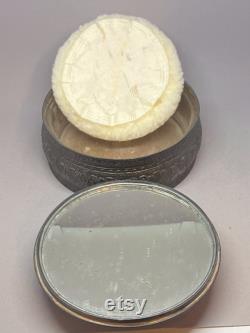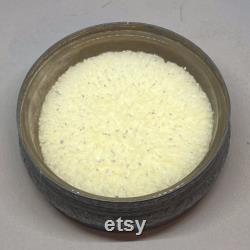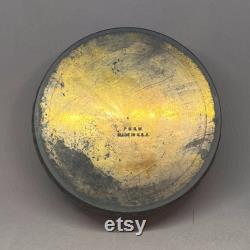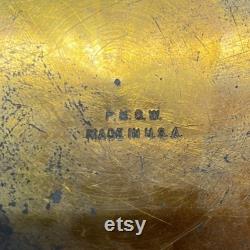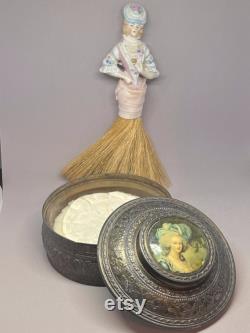 Rare vintage brass powder box with a cameo, inside mirror (4 1/2" w x 2 3/4"t) and powder puff and porcelain half doll vanity sweep. Both items are in very good used condition. This beautiful combination of powder box and half doll sweep will add a touch of luxury to any powder room.
The powder box comes with the a stunning cameo, glass liner, inside mirror and powder puff. The half doll sweep is as functional as she is beautiful. Act fast, this combo will not last long. Fun fact: the porcelain half doll vanity sweep was used as a decorative and functional item on a dresser or a vanity table, to sweep away dust, lint, or powder.
Porcelain half doll vanity sweeps were popular in the late 19th and early 20th centuries, especially in europe and america. They were often made in germany, france, japan, or china, and exported to other countries. They came in various sizes, shapes, colors, and styles, reflecting the trends and tastes of the time. Some of the most common themes were flappers, geishas, brides, dancers, and historical figures. Antique and vintage collectible condition statement.
If an item has a pronounced defect or damage, we will notate it in the description and provide pictures of the area. Ever since i was a child, my parents and i visited antique stores throughout the country. While i didn't always enjoy these visits, usually because i wasn't allowed to touch anything, they helped to educate me and assist in my appreciation for antiques and collectibles. My wife of 25 years has become an avid collector in recent years. She has been the main motivation for the creation of house of faris, allowing us to spend quality time together with a shared passion.
We especially love to research the history behind our treasures. We have realized that we need to share our treasures with like-minded, passionate collectors, such as ourselves. House of faris was developed for this specific purpose.
We strongly believe in our mission, vision, and value statements that we have developed to help guide us through the modern-day internet retail landscape. We hope that you enjoy purchasing our treasures, but our main goal is to develop a strong network of collectors that will help preserve these magnificent items. Dedicated to preserving objects of antiquity and vintage collectibles by connecting them with passionate collectors. To educate collectors on the history and value of antiques and vintage collectibles. Conservation, historical preservation, education, honesty and integrity.
This item is made of metal, porcelain, enamel, brass, glass, mirror and straw.

---