Sterling Silver and Guilloche Enameled Border Collie Portrait Compact Box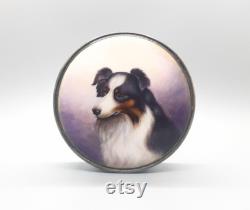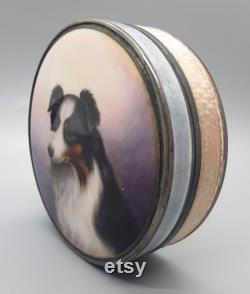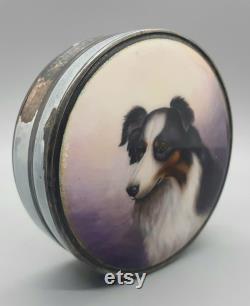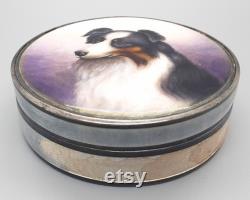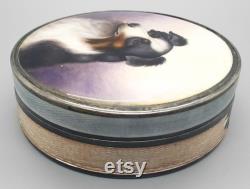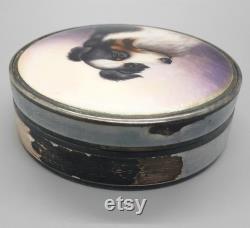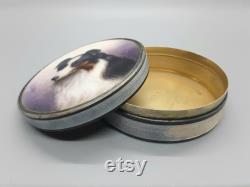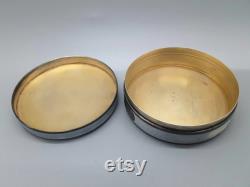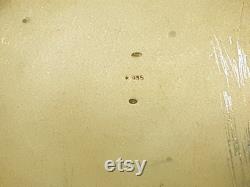 The item featured in this listing is an early 1900's sterling silver. 935 pill box/compact with guilloche enameling on the side walls.
The lid features a border collie pet portrait with a clear enamel over coat. Due to its age, item will show some condition issues - the most evident being the loss of the light blue enamel around the outer walls.
There are also light surface scratches to the under side and interior surfaces. The inside has three identification marks. The number 935 (indicating the 93.5% silver content) appears in the center. The other two marks, appearing above and below the silver mark, are too small to be deciphered with the naked eye. Even the use of a standard magnifying glass did not help.
A professional jeweler's loupe would be needed to be able to read the marks and possibly identify the maker and/or country of origin. Box is approximately 1" tall and is 2.75" in diameter.
Total weight is 106.5 grams or 3.75 oz. Please click on the photos provided for close ups.
Pictures are included as part of the item description. Feel free to contact me if you'd like additional pics. (etsy limits listings to 10 images max). Thank you for visiting the peddler's pocket.
This item is made of sterling silver 935 and enamel.

---