Stunning Matched Vanity Dresser Set 14 Pc. Ladies Boudoir Set Art Deco Style Hinged, Foil Covered Display Box FREE SHIPPING U.S.A.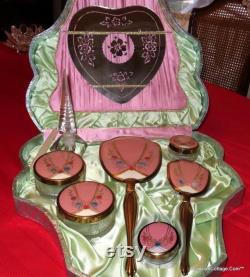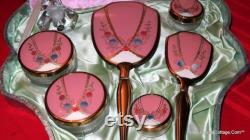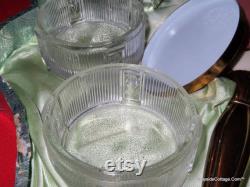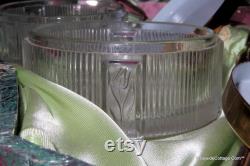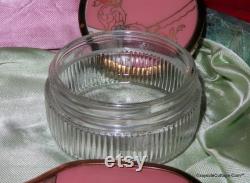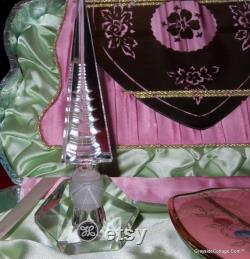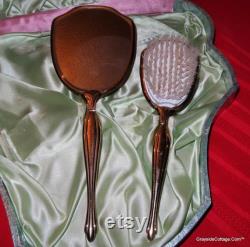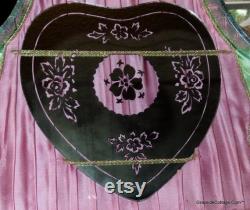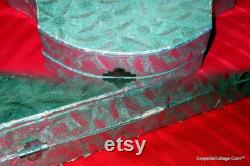 There are lots of pieces in this really pretty boudoir set. The only pieces that are not part of the matched set is the cut crystal perfume bottle with the reverse cut pagoda stopper. It just seemed to fit so i included it with no additional charge.
The hinged display box is covered with teal green with silver foil on the outside. The inside of the box is mint green satin lined with pink satin behind the mirror.
The trim is gold cord. All of the following measurements are approximate.
Heart shaped, reverse etched mirror-10"l x 9 1/2"w. Cut crystal perfume bottle w/reverse cut pagoda stopper-7 1/2"t x 3"w. Long handled mirror w/beveled glass-13 5/8l. 2- footed, lidded glass jars-3 5/8"dia x 1 7/8"t. 2- lidded glass jars-2 1/2"dia x 1 1/8"t. Foil covered display box-17" x 16" x 3. All pieces are in like-new condition with a couple of small exceptions: the wear on the outside of the box is to be expected and it doesn't let us down.
Actually the box itself isn't that bad. Next is the wear around the outer edge of the mirror. The perfume bottle has a chip on the top edge in the back and it really doesn't show with the stopper in place. The cut crystal edges of the bottle mask the chip pretty good.
If this is something that you just can't live with, i'll remove it from the set. This item is made of cut crystal and satin material.

---