Uranium Green Glass Lidded Powder Jar, Trinket Pot, 1930's Art Deco, Immaculate Condition, 2 Sizes Available, 3 x 3 or 3.25 x 3.5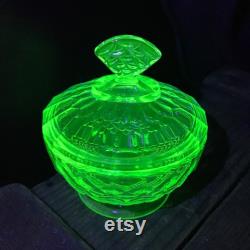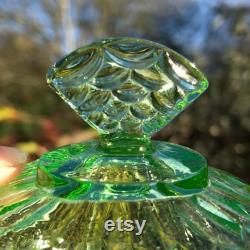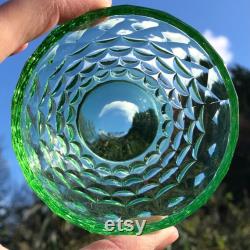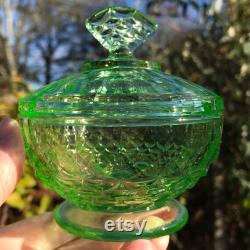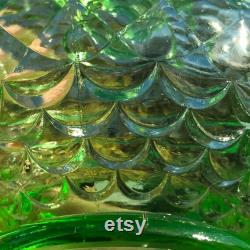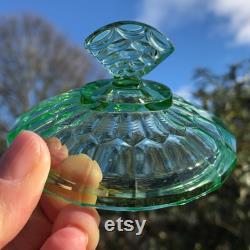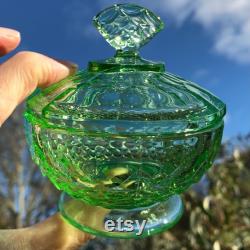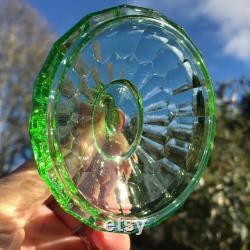 Uranium green glass lidded powder jar, trinket pot, 1930's art deco, immaculate condition, 2 sizes available, 3" x 3" or 3.5" x 3.5". Lidded powder jar or trinket pot originally part of a 1930's glass trinket set. Immaculate condition, no chips, scratches, flea bites or nibbles. The smaller version (2 available at time of listing) measures 3" x 3" (weight 180g).
The larger version (only 1 availabe at the time of listing) measures 3.5 x 3.5 (weight 220g). Classic art deco style for the dressing table. There is a fan shaped finial handle on the top of the lid. The entire surface of the pot and the finial is covered in a pressed pattern of small fish scales.
Looking from above, the lid has a pattern made up of a series of upward and downward facing pillars. Please note photo number 1 was taken in the dark with the help of a uv backlight, the rest of the photos are taken in natural outdoor daylight.
Items will always be packed with exceptional care, usually double boxed, using clean repurposed card and paper as well as strong paper packaging tape - all of which can be recycled. Fragile items will also be wrapped carefully in good quality brand new bubble wrap. I will always cover the parcel for loss or damage in transit if the worst should happen. Thank you so much for visiting.
This item is made of uranium green pressed glass. The style is art deco and hollywood regency.

---