Vintage 1940s Black Enamel On Brass Powder Box With Original Sifter, Hand Painted Design Of Two Pheasant-Type Birds on Lid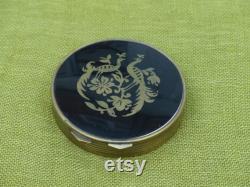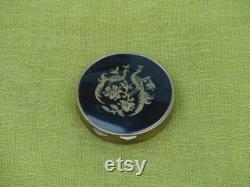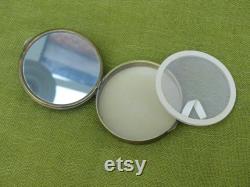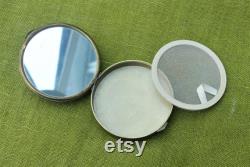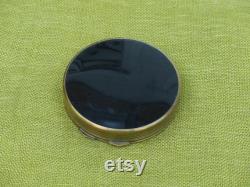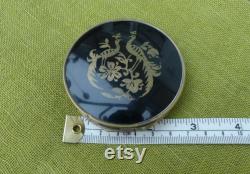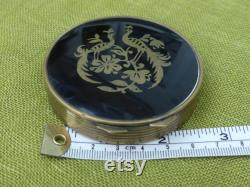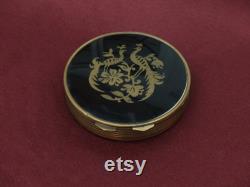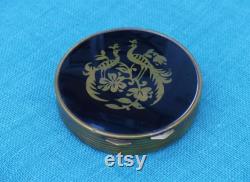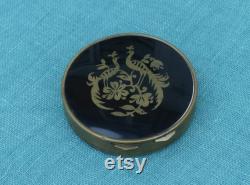 Here is an interesting find - an unusual little powder box, made of brass with a black enamel lid and base. The lid has a hand-painted gold design of two pheasant type birds with long fancy tails feathers. This has faded a little over the years but is still pretty and very appealing.
The brass powder pot measures 7cms in diameter x approx. 1.8cms high (that's 2 3/4" x just under 3/4") i have no information regarding who manufactured this, but it is very unusual and very collectible. The early powder boxes from the 1920s and 1930s are often quite deep to take a quantity of loose powder.
This one has its original sifter which appears to be unused, but is coming slightly adrift around the tab bit of the edge. (just a tiny dab of glue will fix this). I think this dates from around the mid-late 1940s - it has a less lux feel compared to the fine chrome or silver art deco metal powder compacts from the 1920s/30s era, so it's probable that this came from the middle or far east as a cheap import during or just after the war perhaps. It's a charming piece of ephemeral cosmetics and beautyware from a time of great hardship for everyone.
This item is made of black enamel and brass, mesh sifter.

---