Vintage 1940s French Faux Tortoiseshell Celluloid Powder Compact With 18th Century Portrait of a Lady on Lid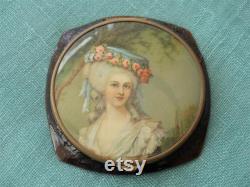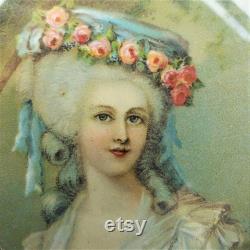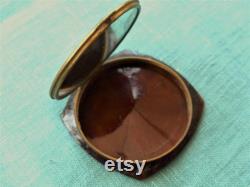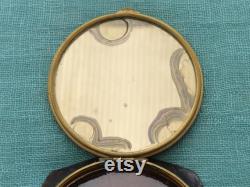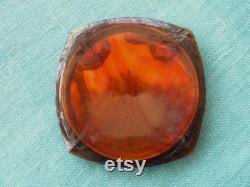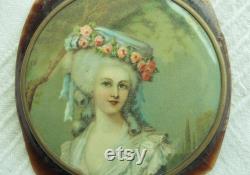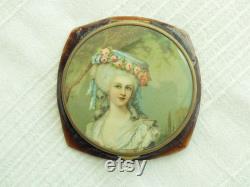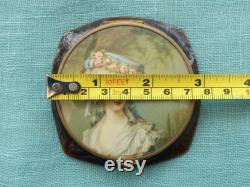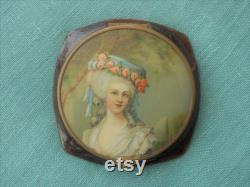 I will be unable to post any items before tuesday 4th may, due to the bank holiday weekend. Any sales will be dispatched first thing on tuesday morning. Here is an interesting find - a pretty powder compact, made of translucent faux tortoiseshell celluloid and featuring a gorgeous 18th century portrait of a society lady, with a huge picture hat bedecked with pink roses on her powdered hair, and a beautiful white dress with layers of frills over her shoulders.
The celluloid base is a rusty reddish brown colour and has a swirled effect when you hold it up to the light. The portrait on the lid is a paper print under a clear plastic cover, and has a very green bias in the colouring. It's very pretty and very vintage looking.
I know this is french becaues i acquired this along with two others of very similar design, and one has'made in france' embossed in english in the inside of the powder well. Therefore it was very likely made for the tourist market.
The dating is probably from around the 1940s as the use of celluloid was necessated by the commandeering of base metals for the war effort, by british and french alike. Thise powder compact measures 7.6cms in diameter x approx.
9mm thick (that's 3" x 3/8") i have no information regarding who manufactured this, but it is very unusual and very collectible. The early plastics are hard-wearing, and were used for some very decorative items, especially for the beauty trade. This is so typically french in its use of 18th century romantic portraiture, and very charming piece of ephemeral cosmetics and beautyware from a time of great hardship for everyone, right across europe.
This item is made of 1940s celluloid plastic.

---