Vintage 1960's Powder Compact and Comb Set in Plaid Silk Pouch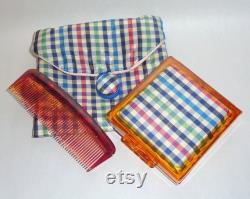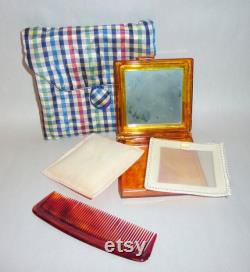 Offering a sweet vintage powder compactset in blue and pink silk plaid. The powder compact, which measures 2 3/4" x 3" is in an amber colored plastic and the cover has a plaid pattern in silk fabric. This plaid silk matches the pouch the compact comes in, which measures about 4 1/2" x 4". Included in the pouch is the original plastic comb. The powder compact has the original sifter and powder puff.
The mirror is still good, there is a smallish spot of blur under the glass, but for the most part it is nice and clear. I only blurredthe surfacewith a bit of powder for the photo, to avoid flash.
Everything is in excellent condition. No breaks or stains on anything.

---