Vintage Antique Porcelain Hair Receiver Blue and White with Floral Pattern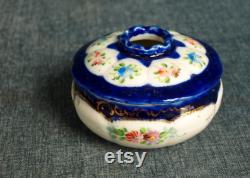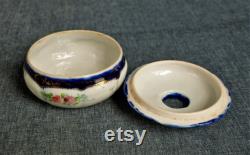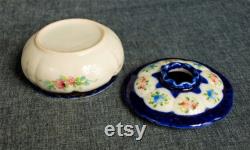 Before this listing i didn't know there was such a thing as a hair receiver. This one is in very good condition - no chips or cracks. However it does have some gold trim color loss. It doesn't have a maker's mark but judging by the glaze i would place no later than the 1930's but is most likely older.
A hair receiver is a small pot, typically made of ceramic, bronze, or crystal, (1) with a hole in the lid, kept on the dressing table in the victorian era to store hair removed from brushes and combs. The hair was recycled in a number of waysnotably for stuffing small bags, about 810 centimetres (34 in) across, called ratts, used to bulk out women's hairstyles. Human hair was also used for stuffing pincushions and small furnishing cushions. It was often paired with a matching trinket box or a powder jar or as part of a dressing table set, made mainly from porcelain, though glass, metal, and celluloid were also used.

---