Vintage Art Deco Yellow Enamel Guilloche Sterling Silver Chatelaine Powder Compact Gold Filled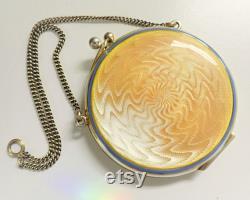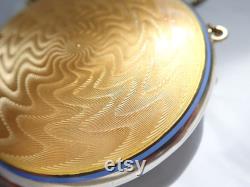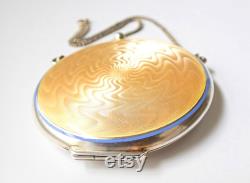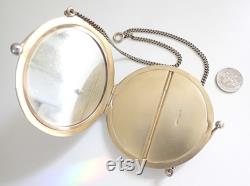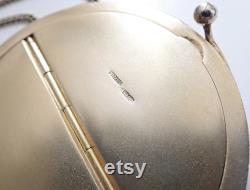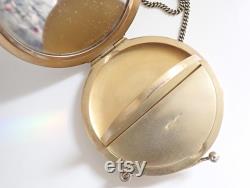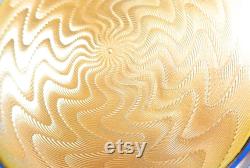 Vintage art deco yellow enamel guilloche chatelaine powder compact. It is signed inside "sterling, germany" it is in fabulous condition and must have been safely stored away all these years. It is a chatelaine piece because of the small ring. The larger rings on chains are finger compacts. It is a heavy piece of sterling silver, 120 grams without the chain on scale.
The yellow enamel guilloche is on both sides, front and back and in lovely condition. The yellow enamel has a blue enamel outline. The chain is unmarked so i'm pretty sure its not sterling but looks to be gold filled. The twist closure opens to the mirror which has clouding from age and it has a frame around it the is set into the compact.
You can lift it out to remove mirror and replace if needed. Two sided compact areas the finger lift open.
One would have been face powder and the other may have had rouge or a powder puff. The pictures don't do this compact justice.
From the 1920s - 1930s. 1/2 inch deep at center and narrows to edges.
Chain is 6 inches on each side. This item is made of sterling silver and gold filled, yellow enamel, guilloche.
The style is art deco and art nouveau.

---