Vintage Art Nouveau Style Vanity Dresser Jar with Ribbed and Footed Glass Base And Brass Repousse Floral Lid, For Boudoir, Vanity Storage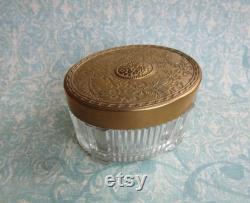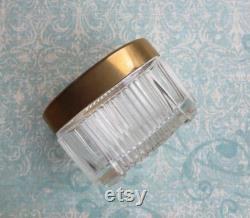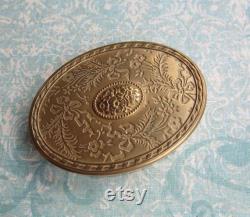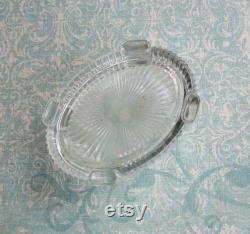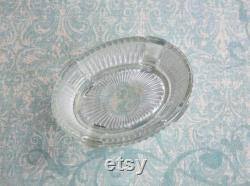 Vintage art nouveau style vanity dresser jar with ribbed and footed glass base and brass repousse floral lid, for boudoir, vanity storage. This gorgeous vintage vanity jar is a fabulous combination of art deco and art nouveau styling in the design. Circa 1930's this jar held powder or makeup and adorned the ladies vanity table with elegance. The attractive oval shaped vanity jar has a ribbed design and footed glass base with sunray design on bottom of glass, this design is reminiscent of art deco.
This jar is a nice size, i have had several different sizes of this lovely dresser jar and they are always desirable and lovely. The beautiful gold colored brass lid has a fantastic art nouveau style design with sprays of flowers and flora tied with flowing ribbons. In the center is a raised cartouche with repousse flowers. The wonderful oval shaped vanity jar can hold jewelry or trinkets or vanity keepsakes. Will make a lovely gift for a special lady for her boudoir.
The vanity jar is very sweet and is in excellent condition with no damage. The lid is shiny and there is light wear around the edge. Measurements: 2-7/8" across lid by 2-3/4" across glass base by 1-3/4 in height. This item is made of dresser jar and repousse lid, flowers, ribbons, golden brass, lid, footed, oval shape, ribbed glass, sunray pattern. The style is art deco and art nouveau.

---