Vintage Avon Art Deco Style Vanity Jar Replica with Ribbed Glass And Silvertone Repousse Floral Lid, Nice Collectible Jar for Vanity Storage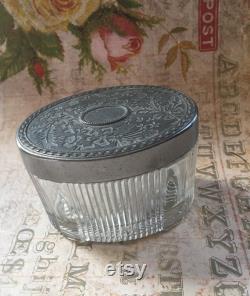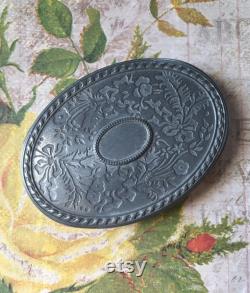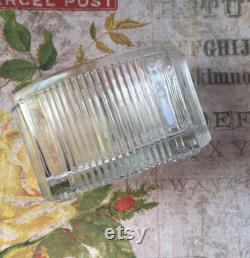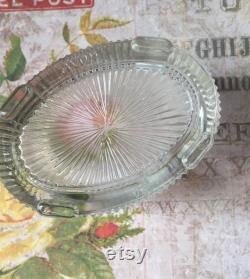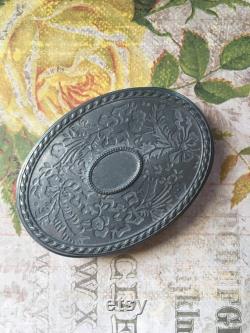 Vintage avon art deco style vanity jar replica with ribbed glass and silvertone repousse floral lid, nice collectible jar for vanity storage. This gorgeous vintage vanity jar has a fabulous mix of art deco and art nouveau styling in the design and is a replica of the original deco dresser jars from the 1920-1930s, this jar will adorn the ladies vanity with elegance and charm with the look of a bygone era. The oval shaped vanity jar has a ribbed and footed glass bottom with sunray bottom, this design is reminiscent of art deco. It is marked avon on the bottom. The silver colored lid is like pewter. It has a fantastic art nouveau style design with sprays of flowers and flora tied with ribbons. In the center is a raised blank oval cartouche. The oval shaped vanity dresser jar will hold makeup, jewelry, trinkets or any of your vanity keepsakes. Will look delightful in the boudoir or bathroom. This particular dresser jar is more unique in silver, they are usually found in brass. The vanity jar is very sweet and is in excellent condition with no damage.
Measurements: 3-5/8" across lid by 2-5/8" and 2-1/8 in height. This item is made of dresser jar and repousse lid, flowers, ribbons, footed, oval shape, sunray pattern, silvertone lid, ribbed glass. The style is art deco and art nouveau.

---