Vintage Corona Paris and Limoges Powder Compact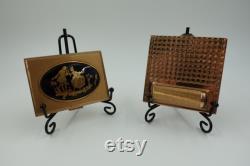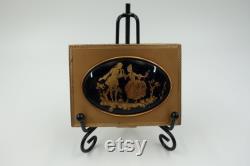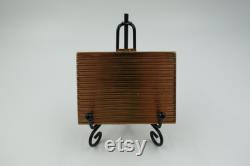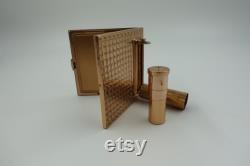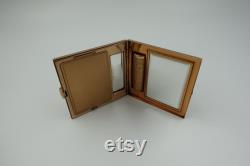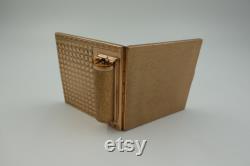 A stylish vintage french powder vanity compact with lipstick holder manufactured by the corona brand in the 1950s. The gilt-plated metal case features a sleek design with a geometric pattern on the exterior. The interior of the lid features an elegant bevel-cut glass makeup mirror. The bottom section has a refillable lipstick tube holder and a powder compartment with its original applicator with puff edges.
The interior features the corona paris maker's mark and "made in france". 3" long x 2.5" wide x 0.3 tall. (8 cm x 6,5 cm x 7 mm). Limoges loose powder compact with ceramic tile, vintage black and gold makeup mirror with an 18th-century romantic couple on a porcelain plaque. Gold plated and limoges enamel (blue background and golden flowers).
The internal mirror of the limoges powder nox is cracked. It can be replaced very easily and cheaply.
This item is made of gold plated and porcelain.

---